• We continue to take orders and ship during this global situation •
Bugle-Head Stainless Steel Terrace Screws
Hardwood Terrace
Bugle-Head Screw
Fasten all types of wood decking including Ipe, Redwood, Cedar, and preservative-treated (PT) woods (non-hardwood) with the DeckWise® Bugle-Head screw. Available in A2 stainless steel for decking and A4 Grade stainless steel for salt water installations and superior corrosion resistance from the elements. Use for optimum performance with hardwoods, thermally modified softwoods, PT softwoods and composite decking materials. Pre-drilling is not required except for exotic hardwoods.
This line consists of our Signature Colormatch painted head; Hardwood Brown to match your decking material plus, an unpainted stainless steel head for general purposes. These T25 drive deck screws swiftly penetrate decking with a Type-17 auger point including coarse threading which pulls boards tightly together. The double countersink flat bugle head has 6 nibs; utilizes a 6 lobe star drive to reduce cam-out and increase torque; and comes as a chipboard thread screw with partial thread and triple spline (one at the beginning on the thread and two at the end of point).
Features
Easy installation - T25 Star Drive finish heads
Match your wood color to the screw head
Drive with ease - Auger tips cut through even the hardest woods
2 Painted Head
Color Options
Head colors available in Hardwood Brown and Stainless Steel in A2 and A4 stainless steel. A4 is perfect for salt water installations and has superior corrosion resistance from the elements.
Hardwood Brown
Stainless Steel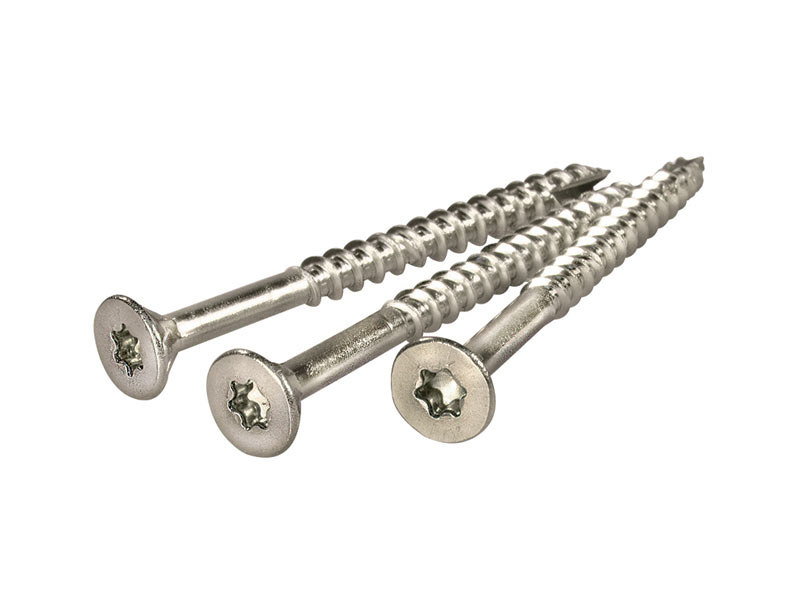 | RANGE | 5 x 64 mm | 5 x 79 mm |
| --- | --- | --- |
| 100 CT | | |
| 350 CT | | |
---
With its under-head nibs plus fast-start tip, the Bugle-Head all-purpose wood screw is perfectly suitable to be driven in and countersunk into wood and deck boards. The shank is manufactured to endure wood swelling and seasonal shrinkage.
Designed for wood projects and decks of all kinds including use with hardwoods, thermal wood PT and composites. Whether face screwing decking or building a DIY home project, we have a fastener to match. Use the A4 stainless for a powerful fastening solution for decking, docks, and general exterior applications where extra corrosion protection is needed.