• We continue to take orders and ship during this global situation •
DeckWise® B.V. Dealer Monitoring
Advertised Price
Monitoring & Guidelines
---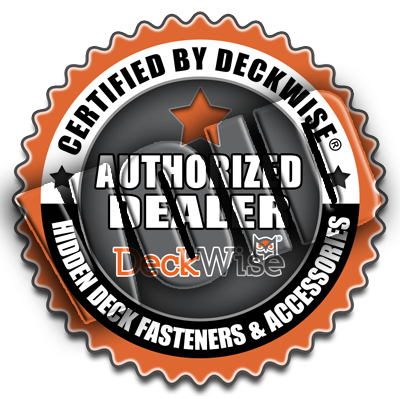 Online and print MAP Policy monitoring to identify offenders and pinpoint each and every violation of DeckWise® reselling guidelines.
The DeckWise® B.V. online retail sales intelligence solution and creation of the "Authorized Dealer" Badging Program, is a push to reinforce the Company's dedication to its strategic network of Authorized Dealers, and in order to protect the DeckWise® B.V. brand name from unauthorized resellers.
Request Authorized Badge
---
Flourishing sales and also brand name presence through retail channels can easily take an extended period of time when a company is aiming for healthy growth. Resale cost maintenance efforts are vital to sustaining this growth. Our advertised price monitoring grants us the visibility to understand and respond to what's taking place with our items online and in local areas.
Effective immediately, a small, customized badge, which includes the DeckWise® B.V. logo and the tagline "Certified By DeckWise® B.V." as an "Authorized Dealer" will be made available only to authorized DeckWise® B.V. Authorized brick and mortar Dealers and internet resellers. This authenticity Badge Program is fashioned to convey the online reseller's validity as authorized by DeckWise® B.V. and particularly to alert consumers that authorization is verified by a strict company policy.
Protecting the
Deck

Wise® B.V.

Brand Name

The increasing demand for DeckWise® B.V. products plus the existing online buying trend makes it vital to guarantee our practices and methods protect the DeckWise® B.V. brand name, our MAP and our distribution while enhancing our qualified Dealer partners' hard work. This "Badging" initiative is a large part of our overall strategy to stop all misinformation where our hardwood deck building products and accessories are purchased.

More than advertised price channel monitoring, we will accurately identify which resellers are violating our MAP Policies. We will vehemently record detailed violation history with computer screen shots, and deliver top-notch enforcement with our case management team.

We are also undertaking a massive clean-up effort of unauthorized online 3rd party sales channels. This is comprised of detailed investigations and police of unauthorized resellers, including aggressive take downs and legal action against infringing individuals. This may even include ending business relationships with long-term building material Dealers when the situation requires aggressive action.

Our dedication to this Authorized Dealer Certification program is critical in helping drive retailer trust in our branding. When consumers come across our decking products on any marketplace, they must know our dedication and commitment to high quality is behind their purchase.
Protective Measures
Being Taken
---
Price Monitoring
Monitoring of retailers across marketplaces, product comparison sites and individual retailer sites.
Violation Tracking
Track key pricing events, violation history, and screen shots with integrated case management for centralized enforcement.
Triggered Alerts
Triggered alerts for important price and inventory events and push-reporting supplements of activity.
ID Rogue Sellers
Total visbility into authorized retailers and the identification of unauthorized sellers, and gray market sellers.