Hide Hardwood
Terrace & Cladding Screws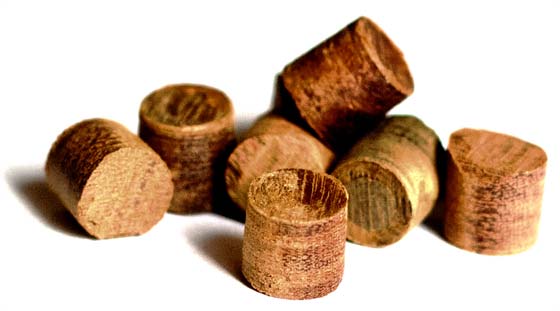 When screwing into the top side of terrace planks (face screwing) is the preferred method of installation, the DeckWise® Master Plug Kit is perfectly adapted to accomplish the job properly.
Hardwood plugs are used by professional builders and DIY homeowners who want a smooth, beautiful hardwood surface void of dangerous screw heads. Our specially fashioned Ipe hardwood plugs fit precisely into countersunk holes for hiding installation screws.
These Ipe wooden plugs are manufactured from premium Brazilian Ipe hardwood to provide an ideal match once installed in your terrace or cladding project. Each of these hardwood plugs have been machined with a taper for easy inserting into timber planks. They preserve the seamless, no-holes beauty on your hardwood surface.
---
Exotic Timber
Terrace Plugs
Our tapered hardwood plug design makes installation effortless. Match your terrace or cladding timber planks with hardwood plugs included in each Master Plug Kit. Or order in ranges of 100, 350, 1050, or 1750 plugs. Call for availability on Cumaru, Tigerwood, and Massaranduba timber plugs.
---
Invisible Terrace Fixations or
Surface Face Screws?
When constructing a terrace you need to first decide whether you will use invisible hardwood clip fixings or face screws to attach terrace planks. We always suggest using our Extreme® Invisible Terrace Fixings for a smooth family friendly surface. Every terrace fixing kit arrives with the precise range of hardwood clips, wooden plugs, glue, and stainless steel screws to build a beautiful outdoor terrace.
On the other hand, when you decide to install terrace planks with screws on the top side (face screwing), DeckWise® offers the one and only "complete hardwood plug kit" for the job. Professional builders can trust every Master Plug Kit includes everything needed to get the job done! DIY homeowners will find our wooden plug kits make the daunting task of installing timber planks a breeze. Finally, an all-in-one terrace plugging system that handles every installer's needs.
Brazilian
Hardwood Plugs
100, 350, 1050, & 1750 Ranges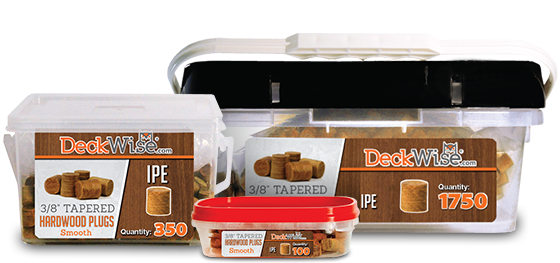 Every
Master Plug Kit

Contains:
350 or 1,050 Brazilian Hardwood Plugs (9,5mm)
Available in Ipe ONLY
350 or 1,050 DeckWise® 4x50mm stainless steel screws
1 Complete Drill & Drive™ Drill Bit Set
118ml container of Gorilla Glue®
Why
Use Hardwood

Plugs?
Plugs only can be ordered in 100 and 1750 ranges
Wood plugs produce a level terrace surface
Plugs hide screw heads creating a smooth finish
Plugs match timber grain making plugs invisible
Creates a family friendly, safe surface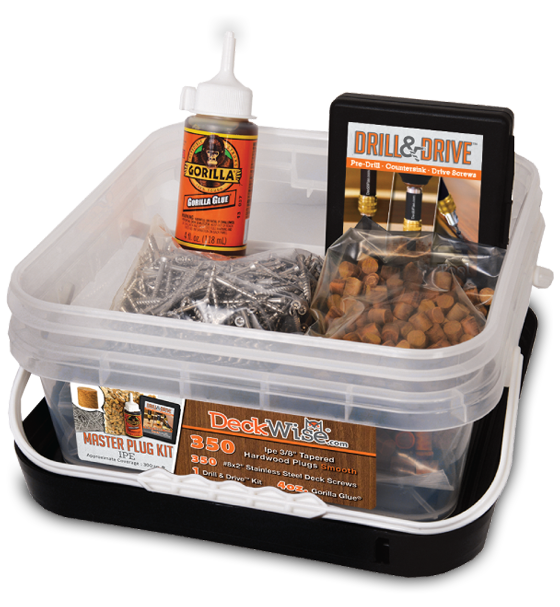 ---
Master Plug Kits:
Everything Included!
Every Master Plug Kit comes with 9,5mm Ipe hardwood plugs; 305 Grade stainless steel screws; wood glue; and all of the drill bits and tips needed for pre-drilling and countersinking. Everything needed is included in 350 or 1,050 container ranges as well as a Drill and Drive™ drill bit set.
These wooden Ipe plugs are tapered with the wood grain running across the top of the plug to match the grain of your timber planks. Face grain timber plugs such as these, tend to absorb oil finishes and stain at the same rate as the surrounding hardwood. We suggest staying away from end grain timber plugs which can turn darker when stained.
In addition to the complete wooden plug Kit, installation requires only a power drill, a hand saw or a power sander, and a mallet to tap in the plugs.