Pre-Drill. Countersink. Drive.
3-In-1 Reversible Drill Bit Set
Do the smart thing. Build smart with
Deck

Wise®!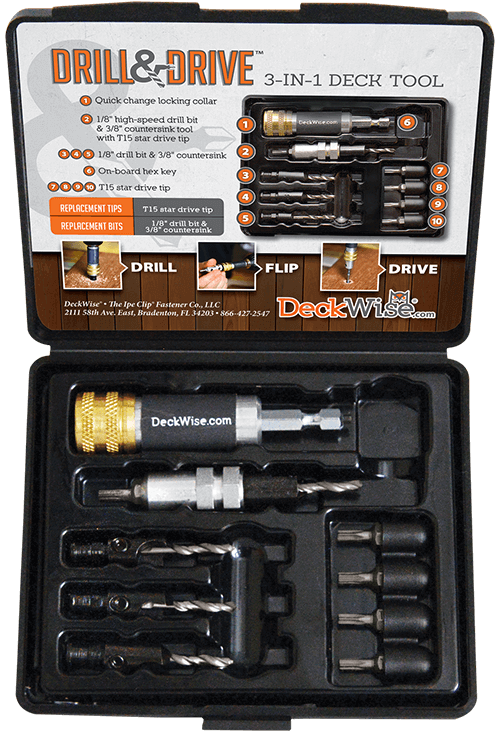 Our Drill and Drive™ drill bit set is a 3-in-1 terrace and cladding installation tool kit. This drill bit set can be used to quickly pre-drill screw pilot holes, countersink wooden plug holes, and swiftly flip the locking collar to drive T15 stainless steel screws. Use this drill bit set for top side face screwing on terrace planks or for installing our Extreme® invisible terrace fixings. Rapidly install hardwood cladding planks using the DeckWise® stainless steel cladding fixings. Its extreme versatility makes installations of hardwood timber planks up to 3X faster than typical methods.
Whatever installation task you may encounter, the Drill & Drive™ "Rapid Change" drill bit set will allow you and your installers to be more productive than ever before. Our drill bit set guarantees clean countersinking and drilling without splinters and chips in most every type of hardwood and exotic timber. Our seal of quality is printed on the quick-change collar for our pledge of quality. Stop wasting time with multiple cordless screw drivers and bits. Make the quick change to increased efficiency and profitability!
---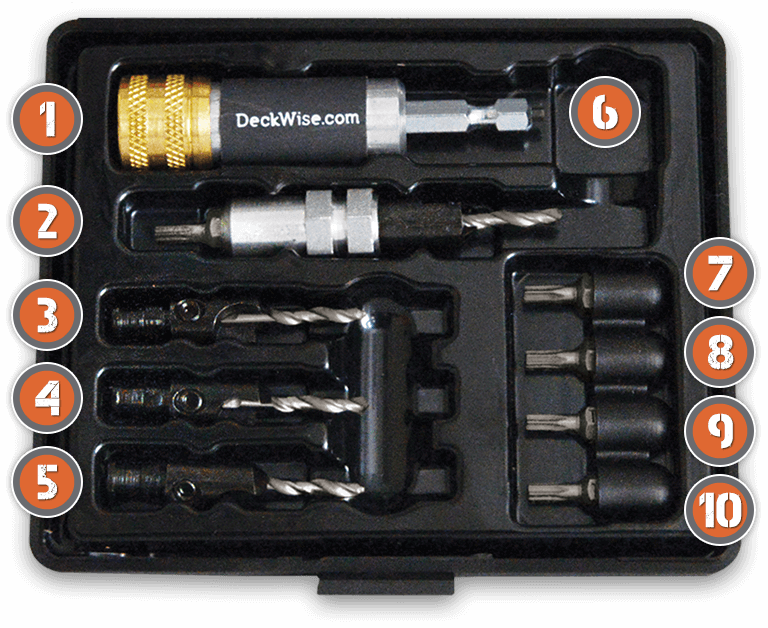 Every Kit
Includes:
Rapid Change Locking Collar

3,2mm high speed drill bit / 9,5mm Countersink Tool
with a T15 Star Drive Tip

3,2mm drill bit & 9,5mm countersink

3,2mm drill bit & 9,5mm countersink

3,2mm drill bit & 9,5mm countersink

On-Board Hex Key

T15 Star Drive Tip

T15 Star Drive Tip

T15 Star Drive Tip

T15 Star Drive Tip
Hardwood pre-drilling and countersink drill bit kit. The fitting of terrace clips and cladding fixings has never been so easy and fast.
Use the sturdy case to remain organized while taking your drill bit kit with you to various job sites. The case includes quick snap bit brackets inside so absolutely nothing will ever be missing.
Every drill bit kit comes with a rapid change locking collar which securely holds the reversible chuck. Pre-drill for stainless steel screws and countersink with the drill bit; discharge the collar lock and flip the chuck around in order to drive T15 Star tip screws. It's that easy and lightning quick.
All drill bit sets include additional drill bits and T15 Star driver screw tips in case they ever require replacement. Just utilize the onboard Hex key found on the rapid change locking collar to release the bit and exchange it with a fresh one.
---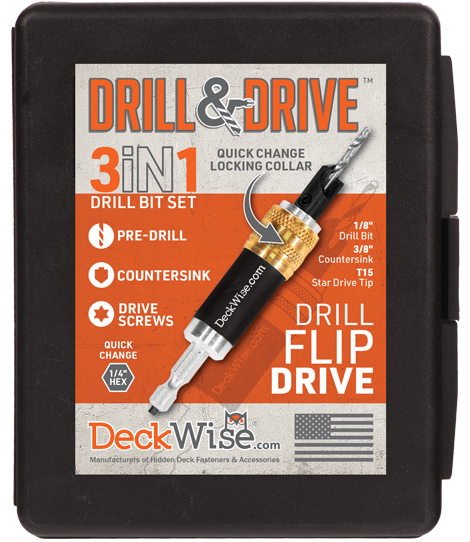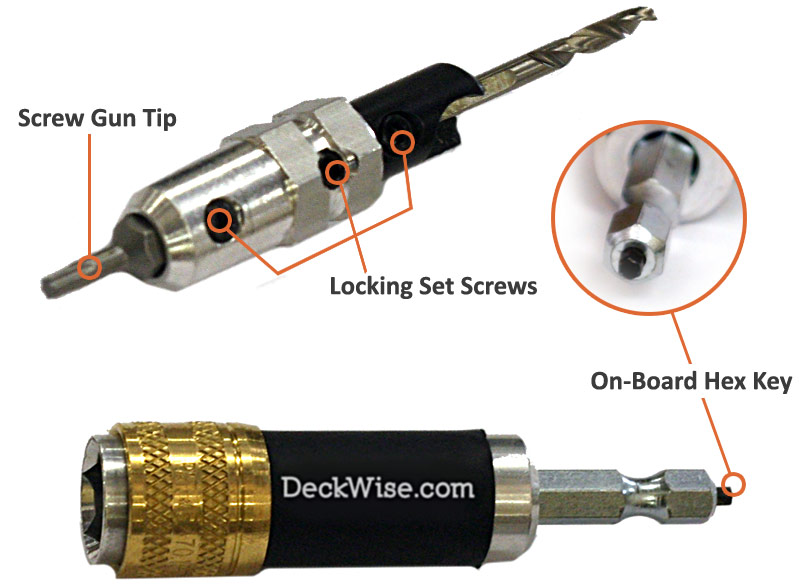 *Replacement bits and tips sold separately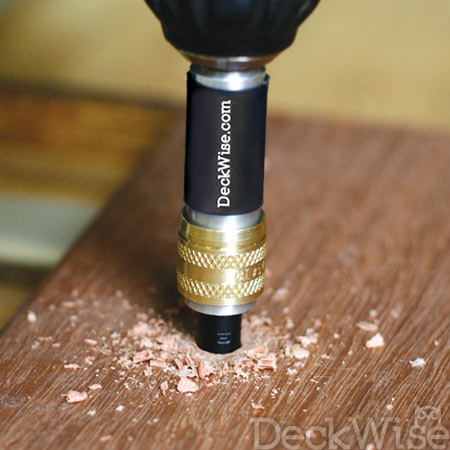 Drill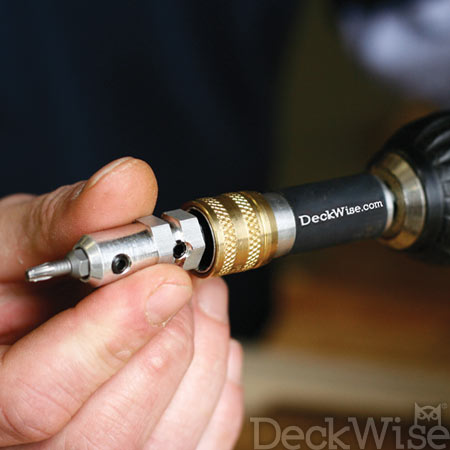 Flip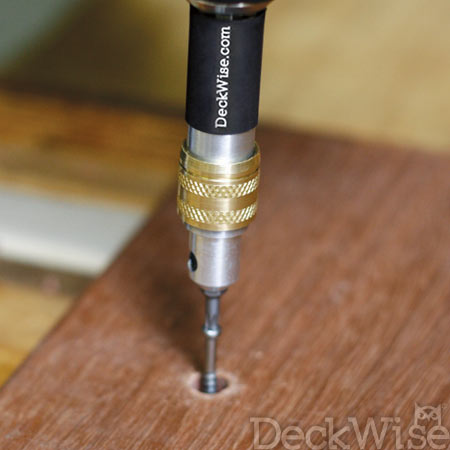 Drive
---
The Importance Of
Pre-Drilling
Pre-drilling invisible terrace fixing pilot holes is not only recommended but also saves on overall material costs. Exotic hardwoods are expensive and waste is unacceptable during installation. The most common reason expenses rise is due to timber planks becoming damaged during installation. Low moisture levels in exotic hardwoods could possibly allow a timber plank to crack or break when driving self-drilling screws. This is because hardwood timber can have moisture content around 13% or even less which, can make hardwood timber somewhat brittle.
Pre-drilling screw pilot holes for EXTREME® invisible fixings will reduce the stress on the plank as the screw threads into the timber fibers. Heat from friction will be reduced and the threads of the screw will be allowed to grab tightly for maximum grip.
Lower amounts of damage to costly hardwood timbers means less need to replace planks that may split or crack during installation and profit margins will rise.
The first time installers use our Drill & Drive™ drill bit set, they quickly notice how much faster and productive their terrace or cladding installation job becomes.
For homeowners and DIY remodelers, this multiple drill bit set is not just for terrace building. The versatility of this 3-in-1 system makes it the perfect household tool for quick home touch-ups and renovation projects.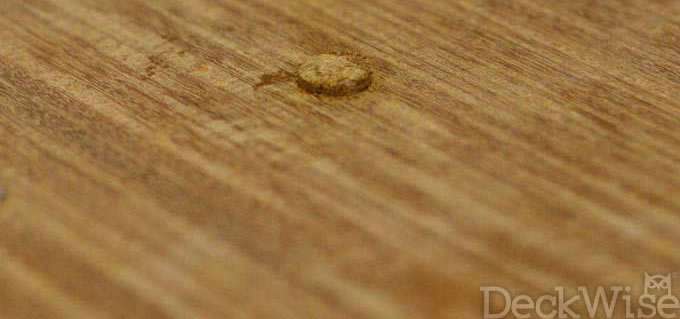 Whether installing a starter plank or top side face screwing, a countersunk screw hole filled with a wooden plug is the preferred way to hide screw heads and camouflage the hole. This is where the Rapid Change Locking Collar of the Drill and Drive™ comes in handy for quick and precise countersink holes and driving stainless steel screws.
When finishing any starter plank installation with countersunk holes and timber plugs, be sure to identify the plug's timber fibers to align with the direction of the plank timber fibers. This will ensure the hardwood plug becomes invisible and blends in.
---
Hardwood Terrace
Invisible Clips
When installing terrace starter planks, the plank should be resting flat directly over the ledger plank and perpendicular across the attached sleeper joists. Simply measure inward from the edge of the plank next to the house approximately 13mm toward the center of the plank. Pre-drill a screw pilot hole and continue downward with the countersink cutting bit attached to the drill bit. Countersink down 9,5mm deep for inserting a hardwood plug later. Insert a stainless steel terrace screw and secure the terrace plank to the ledger plank tightly. Repeat this approximately every 61cm laterally along the ledger plank until the starter plank is fully secured.
Hardwood Terrace
Surface Screws
When face screwing the entire terrace surface, we also suggest hiding screws for a family friendly smooth surface. The preferred method once again is with countersunk screw holes filled with wooden plugs. First, measure directly over each sleeper joist 19mm from the right edge inward and also the left edge inward toward the center of the plank. Simply pre-drill screw holes and continue downward with the 9,5mm countersink bit. Insert a timber screw and tighten to the sleeper joist below. Finish by inserting hardwood plugs and trimming excess timber above the plank. Sand smooth and use an oil finish for a beautifully smooth and blemish-free surface.
Hardwood
Cladding Fixings
For hardwood cladding installations, each top plank will need pre-drilled screw pilot holes and countersunk timber plug holes. First, lay the hardwood cladding starter plank into the cladding starter clips and then install cladding clips on the top edge. Install the cladding planks and invisible fixings upward as noted in their instructions. Install the final top plank by pre-drilling screw holes and countersinking for wooden plugs. Insert stainless steel timber screws to secure the cladding plank and fill with a hardwood plug for a smooth, luxurious surface. Trim excess timber above the cladding plank surface, sand smooth and apply a natural timber oil finish.
The DeckWise® Drill & Drive™ Drill Bit Set provides the every bit needed to install EXTREME® invisible clips or hardwood cladding fixings. This hardwood drill bit set has a range that allows installers the ability to handle a variety of requirements. Such as pre-drilling 3,2mm pilot holes for terrace and cladding screws; countersinking 9,5mm plug holes for hardwood plugs; and a T15 Torx star drive tip to quickly secure timber screws.