The Original
Invisible Terrace Fixing Clip

Reinforced with Stainless Steel
Premium American Made &amp U.S. Patented!
DeckWise® Hardwood Terrace Fixing Clips with high strength stainless steel reinforcement inserts are designed to be up to 3X STRONGER than other terrace fixing systems. Our original invention and US patented stainless steel insert "design" makes terrace installations quick and easy. Do-It-Yourself and professional builders enjoy the smooth and luxurious hardwood surface these invisible clips provide. Always family safe with no surface screws.
Different from most "all-metal" terrace clips which can react with timber oils triggering staining, the DeckWise® hardwood fixing clip is built of a hardened plastic polymer resin shell. This further increases UV & chemical defense qualities.
Our solid stainless steel insert securely holds terrace planks to joists (up to 3X additional hold-down strength than other slot mount terrace clips), stopping screws from pulling through the clip as the timber plank expands.
Premium made in the USA for exotic hardwood terraces, the color of the plastic resin also works to produce additional camouflage and disguise of the clip between the plank gaps.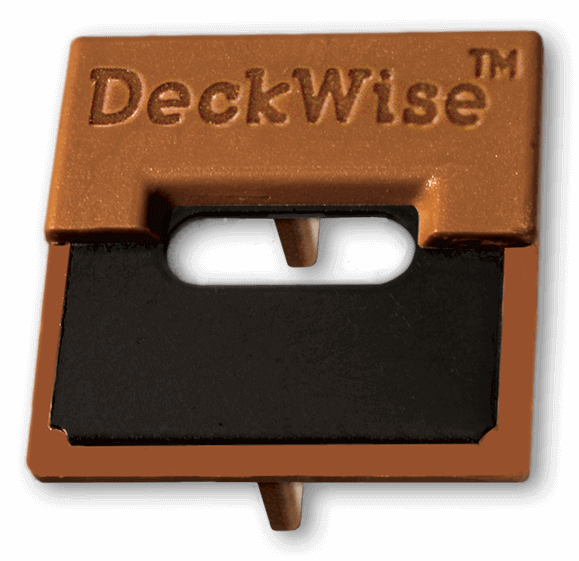 Securing of invisible clips to material at a 45° angle into joists for optimum hold-down
Integrated gap spacer wedge in three sizes: 2,4mm, 4mm, 6,4mm
Stainless steel reinforcement insert for extreme hardness
Black oxide coated insert for anti corrosion
Use with lengthwise slot grooved terrace planks
A symmetrical slot profile permits for reversible planks
The integrity of the smooth plank surface is maintained
Side slot profile of 4mm by 13mm
Remember, a terrace that is built using DeckWise® invisible terrace fixings will provide a longer-lasting terrace, extreme durability, and a safer surface to walk on free of fixing screws.

Extreme® Ipe Clip® Series - U.S. Patent Numbers 8,464,488 and 8,806,829. Original, "round", STANDARD Ipe Clip® - U.S. Patent No. D470,039.
Resilient Polymer
Reinforced by Stainless Steel
Our premium made in America invisible terrace fixing clips are manufactured from a UV resistant, high-strength polymer material - polypropylene and polyethylene. This polymer gives the clip an extreme hardness and longevity no matter what climate they are utilized in. Our proprietary formula of polymer makes these fixings very weather resistant while also providing ample pliability for expansion of timber planks.

---
Fast & Simple
Installation
The DeckWise® Extreme® series features a quick and easy installation system for the simple reason that, the installation work is completed from the top-side of the terrace. There is no need to bend over the edge of planks and no need to screw fixings from the underside upward. Our installation procedure is made even simpler, because our clips' incorporated wedge leg conveniently sets the precise gap spacing between the planks. Click here for installation.
---
Uniform, Precise Timber
Gap Spacing
The DeckWise® product line of invisible fixings set 3 different plank gap spaces to accommodate most installation requirements. The Extreme® clip sets the smallest gap size with a spacer wedge of 2,4mm for use with Ipe hardwoods. The Extreme4® clip is slightly larger with a 4mm wedge leg to set gaps on terraces built with most any building material and is the most versatile. For composite and thermal timber the ExtremeKD® clip delivers the largest spacer wedge leg at 6,4mm. The hollow leg is resilient to crushing and will return to its original shape after natural expansion of the plank.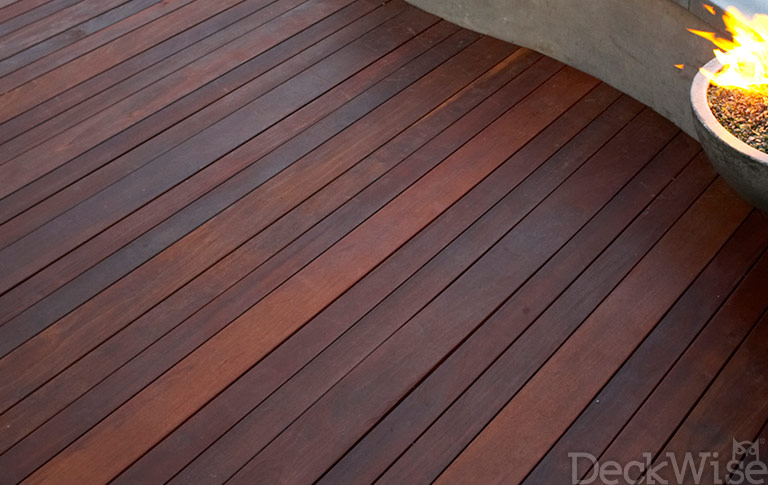 Guaranteed Durability In
Any Climate
Stamped from high quality stainless steel, the insert embedded inside this clip is what gives it massive strength to hold timber planks in place. A protective black oxide coating additionally prevents metal corrosion including corrosion from salt water spray. Rest assured corrosion between screws and natural timber oils are also not an issue due to this coating. The hard polymer external shell also inhibits fading from UV sun rays and protects against future discoloration.

---
1. Stainless Steel Reinforcement (US Patent)
Provides strength, concealment and durability
Anti-corrosive black oxide coated stainless steel
Ensures precise placement of the screw head
Insert prevents over driving of screw
2. High-performance polymer resin outer shell
Molded polyethylene & polypropylene with incorporated spacer wedge
Salt water endurance and load tested
UV & chemical defense
Long-lasting color resiliency
Incorporated Gap Spacer
Wedge Leg
The spacer wedge leg on our Extreme® fixing clips are incorporated into the shape as one entire piece. The protruding leg wedges are measured to fit universal plank spacing for multiple species of exotic hardwoods, composite material and thermally treated timber. Based upon on the gap spacing you choose, these spacer wedges will maintain their strength and not weaken after compression by timber plank expansion. They will return to their original shape for continued precise gap spacing.
Maintains equal plank gap spacing throughout length of planks
3 wedge leg sizes to accommodate all styles of desired gaps
Wedges compress with the expansion of timbers without damaging the planks
Will revert back to original size after maximum plank expansion is complete
Symmetrical Profile &
Reversible Planks
The vast majority of milled hardwood terrace planks do not have a reversible fixing clip profile. Their side slot grooves are often irregular and occasionally exclusive to other invisible fixing clip brands. For that reason, just one side of the timber plank can potentially be installed. If the top-side of a timber plank is defective or blemished, it is not capable of being installed and is lost. This wastes money. However, the Extreme® terrace fixing system uses a symmetrical slot groove profile enabling terrace planks to be flipped. Easily turn the plank over to select the preferred side for installation.
Either side of the timber plank can be chosen to avoid material loss
The DeckWise® side slot groove profile is entirely symmetrical
Value and appeal are enhanced, installment is less, and expenses are decreased
Side edge profile of 4mm by 13mm
Thermally modified (heat treated) softwoods are also a sustainable, long-lasting terrace material option. Mostly due to the European Union's ban on chemically treated timber, the necessity for eco-friendly alternative was needed to fill the void. Since then, over the last 20 years, European timber companies have perfected their process for heat-drying softwood timber. Growth of the thermally modified timber industry is expected to be at around 30% each year in Europe, 45% yearly growth in Asia and the industry is quickly expanding in the U.S.
The DeckWise® line of clips also lend themselves perfectly to thermal wood with one exception. The exception is mainly to our 45 degree securing method with stainless steel screws. Simply put, there is no need to insert screws into the thermal plank at 45 degrees. Just screw straight through our clip at a 90 degree angle down into sleepers. For face screwing planks onto sleepers, we highly recommend pre-drilling screw pilot holes and countersinking for plugs to hide screw heads. (The DeckWise® Drill & Drive™ is recommended for fast installations just as with Brazilian hardwood timber.)

Due to the extreme reduction of moisture content in thermally modified timber, the chance of cracking and splitting is much higher than imported hardwoods during installation. Because of such low moisture content – 1 to 3 percent – terrace planks will contract and expand at a small fraction of what hardwood timber does normally. Hence, there is no need to screw into the timber planks themselves. Straight down screwing through the middle of our clip into the sleeper is a very stable and effective way to utilize thermally modified softwood planks.
Advantages of the
Deck

Wise®

Installation System

Shape & Design: The size and shape of the square biscuit style fixing fits snuggly inside pre-cut plank side slots. Its small size allows for a less obtrusive fixing between gaps, while still offering extreme hold down control. Its' flat head allows for approximately 25mm of contact area inside the planks edge slot groove. Other 'all plastic' fixings do not allow for much contact area between the fixing and the timber inside the slot groove. This may cause lesser plastic fixings to bend and twist during plank expansion. Furthermore, odd shaped clips tend to gather more debris and moisture which can make them more susceptible to failure.

Color Choices: Available in "Hardwood Brown", "Composite Grey" or "Shadowline Black" to match the particular shade of your exotic hardwoods, thermally modified timber, PVC or composite material.

---
Tips: Different than other terrace building systems, each box of DeckWise® invisible clips contains a 3,2mm drill bit and a T15 - Star Drive screw gun tip necessary for installation.

Tools & Accessories: Our unseen hardwood clip kits may be purchased in multiple combinations of clip colors, screw types, lengths and head colors, screw bits and tips and spacer wedge sizes. Likewise, hardwood plugs used for starter planks and face screwing applications can be purchased in larger ranges.
Interested in faster and more productive terrace installations? Check out our Drill & Drive™ 3-in-1 drill bit set.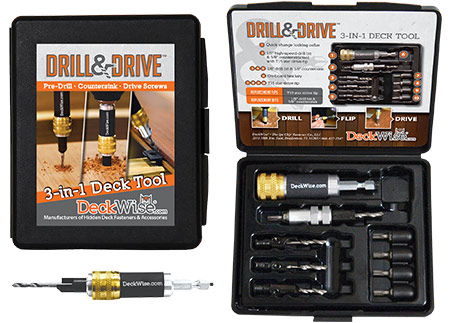 Plank Straightening Tool: DeckWise® is continually focused on innovation, never imitation. Our Hardwood Wrench™ plank straightening tool provides builders an incredible 500kg of pushing force to straighten warped terrace planks.
This installation tool delivers 10 different configurations to suit any installation area or direction. It is expandable, reversible, will work on either single or double joists, and also grips timber sub framing to straighten hardwood cladding planks.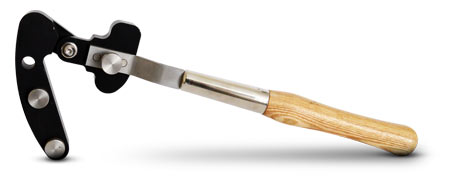 During typical and natural expansion and contraction the terrace planks will, by their own nature, determine the easiest pathway to move. For example, planks will expand towards the direction which is opposite the side that is secured to the underlying joists. As a result, the consistent and regular spacing of the DeckWise® hardwood terrace clips between planks is able to be guaranteed over time.
Consistent terrace plank gap spacing
Controls movement of expanding and contracting planks
Same side of the plank is fixed into underlying sleeper
Keeps terrace planks in-line lengthwise
Stainless steel timber screws prevent staining
When face screwing is not your preferred fixing method, our invisible clip system and stainless steel screws will create a terrace that will last a lifetime. As the clip is installed into the fixing, the stainless steel screw is screwed at a 45 degree angle through the clip. At this angle, the screw threads grab, bite and hold much tighter than screws at 90 degrees. This creates a huge advantage towards screws holding the clip in place for many years.
Fasten through the clip and into the sleeper
Stainless steel guarantees not to stain timbers
Helps ensure a noise free terrace
Permits stable lengthwise securing of the planks
Ensures butt joint planks are correctly secured
Available
Kit Options
DeckWise® EXTREME® Fixing Clip Kits may be requested with your choice of terrace wedge spacer size and color as well as trim-head or self-drilling stainless steel screws.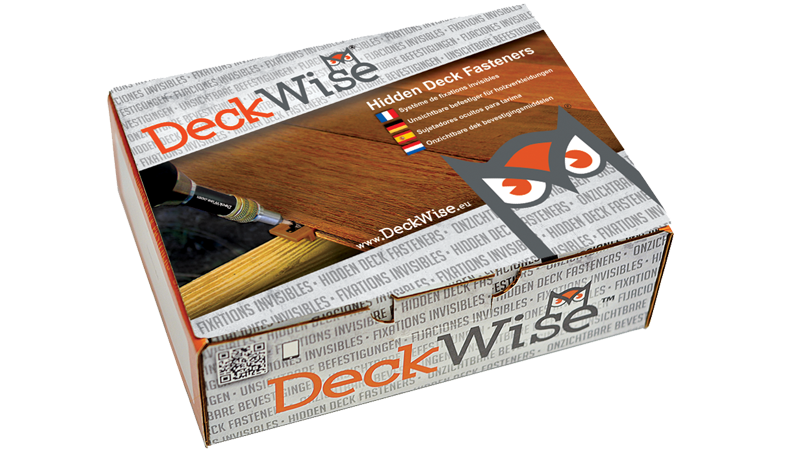 Complete
Kit
(185)

Deck

Wise® Invisible Clips
(200) 4 x 50mm Stainless Steel T15 - Star Drive Black Screws
(12) 9,5mm Tapered Ipe Plugs
(1) 3,2mm High Speed Drill Bit
(1) T15 Star Driver Tips
(1) Instruction Sheet
---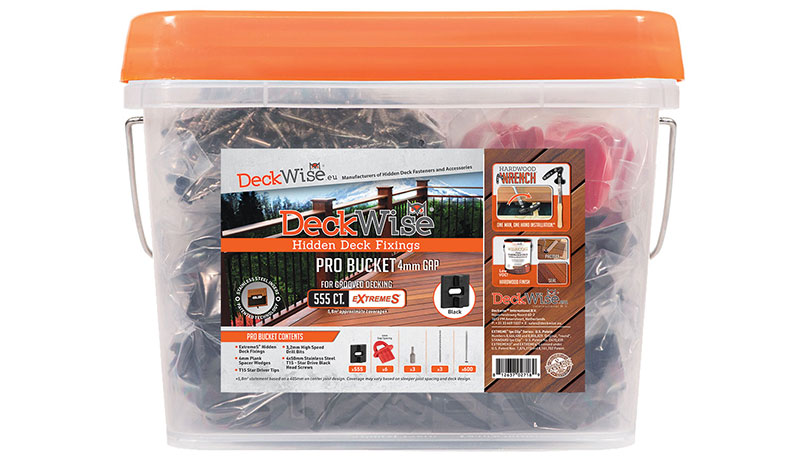 555 PRO
Bucket
(555)

Deck

Wise® Invisible Clips
(600) 4 x 50mm Stainless Steel T15 - Star Drive Black Screws
(3) 3,2mm High Speed Drill Bit
(3) T15 Star Driver Tips
(1) Instruction Sheet
DeckWise® Invisible Hardwood Terrace Clips are simple to install and will build a safe, family friendly terrace you can enjoy for many years to come. Review the below video for step by step installation instructions.