Invisible Hardwood
Terrace Fixing Clip (6,4 mm)
Use with Kiln Dried Timber, Thermal Wood & Composites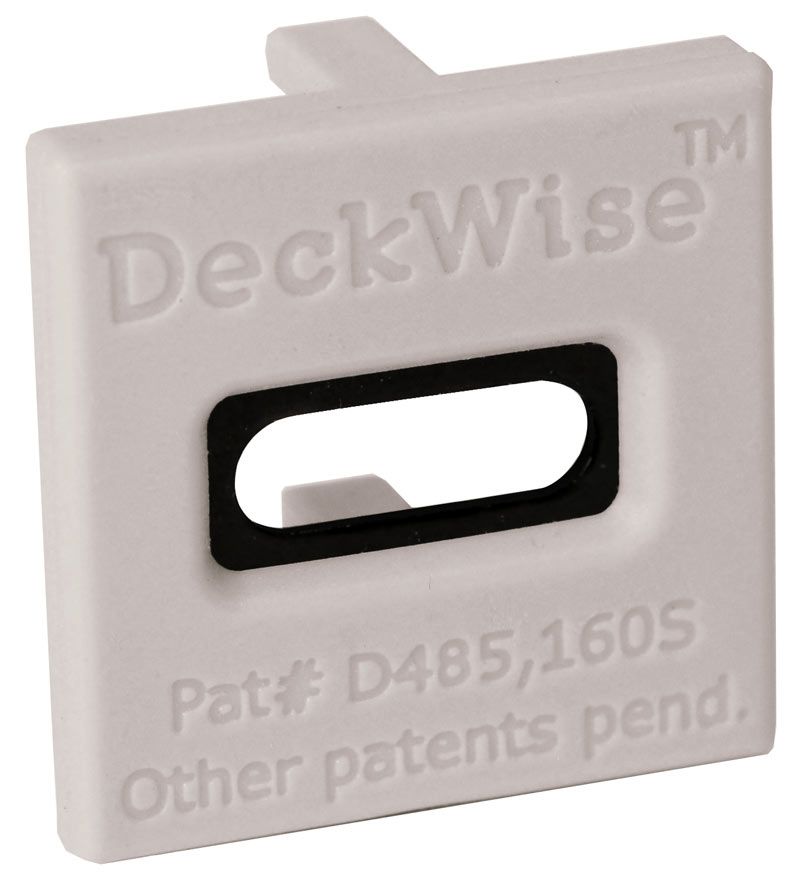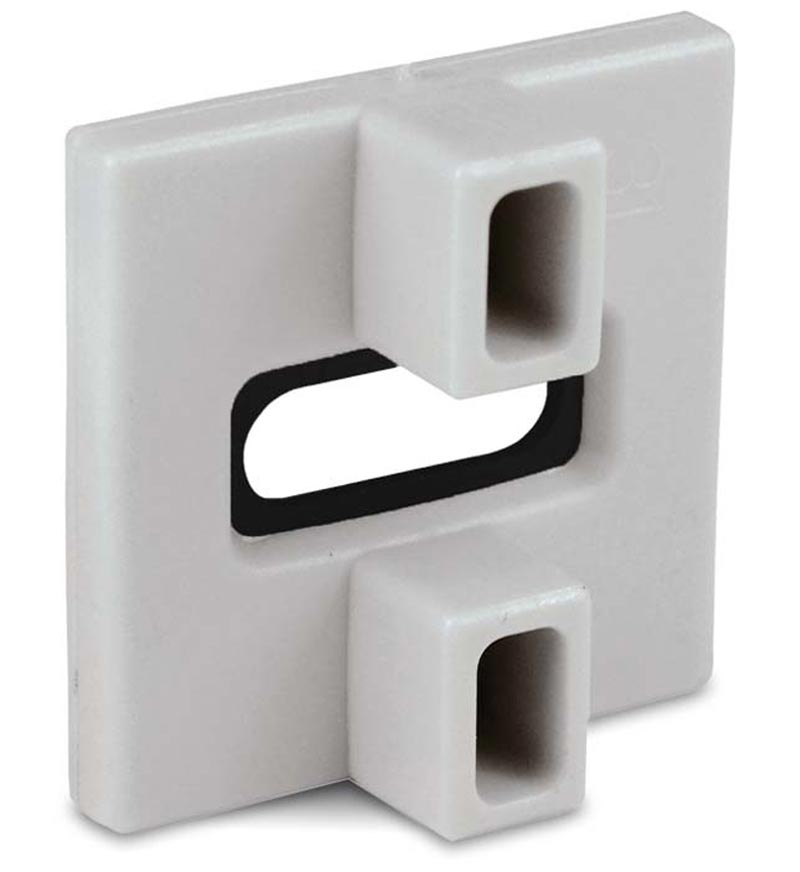 Pick from our line of black painted head trim-head screws or Self-Drilling/Heat-Treated screws to be included with your DeckWise® Invisible Fixing Clip Kits (185 count)
Extreme® Ipe Clip® Series - U.S. Patent Numbers 8,464,488 and 8,806,829. Original, "round", STANDARD Ipe Clip® - U.S. Patent No. D470,039.
Product
Features:
Integrated spacer wedge uniformly spaces timber planks at 6,4 mm
Polyethylene shell and high hardness black oxide stainless steel insert
Suitable for kiln dried hardwoods, thermo wood, composite, or PVC planks
Permits kiln dried hardwood expansion on width
Black oxide coating adds anti corrosion
Permits PVC and composite movement on length
Distinctive design enables for more endurance in edge-groove planks while maximizing hold-down area
Polyethylene casing resistant to harmful UV rays
Hollow spacer wedge legs act as a shock absorber
3 Color Options to match terrace material
Screwing into planks onto joist sleepers at 45° angle
Limited Warranty
Premium American Made &amp U.S. patented
Dealer Resource Portal
Timber Specie Chart
---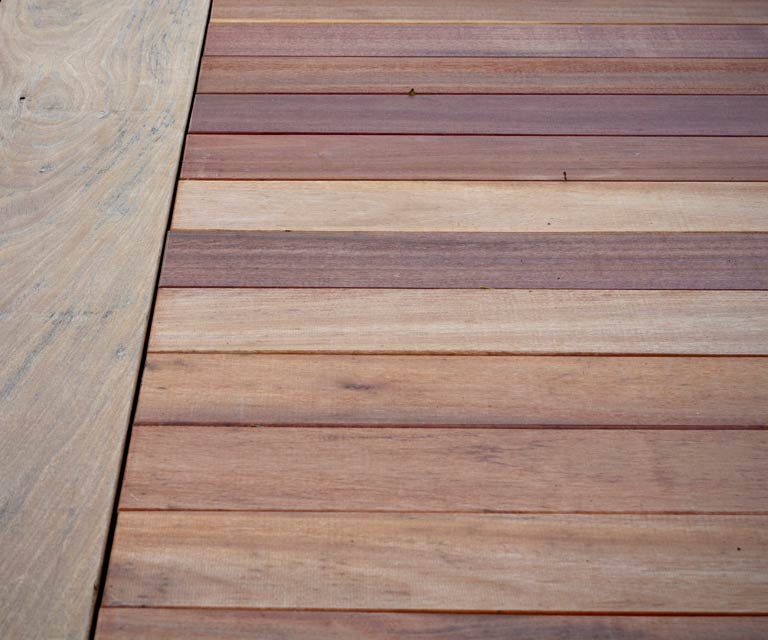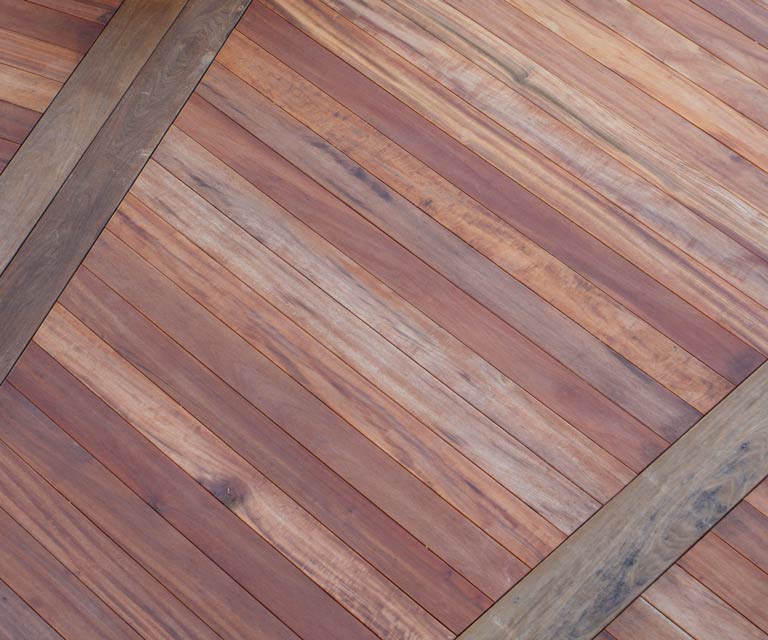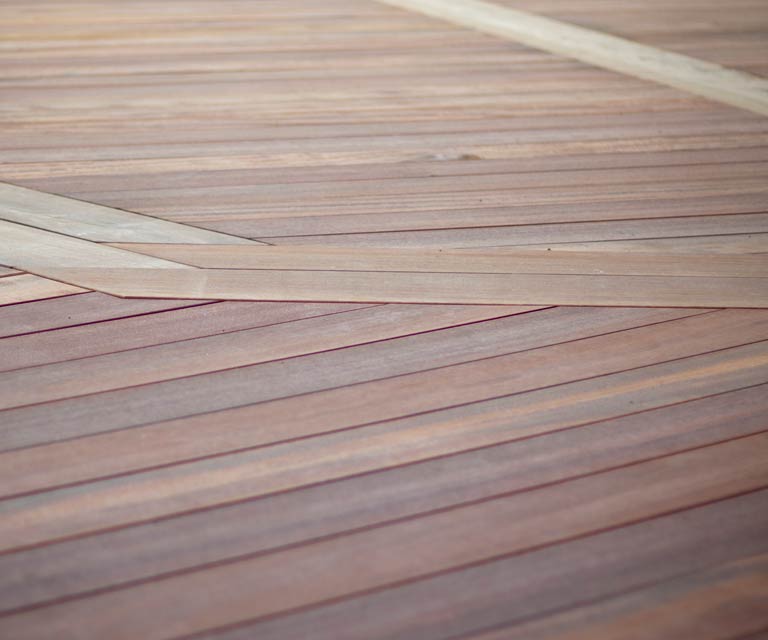 ---
Timber Planks
Stay in Place
Perfect Plank Gap Spacing & Position

1. Direction of plank expansion
2. Direction of plank contraction
3. Top side of the terrace planks
4. Screwed side of the planks
What makes our U.S. patented side-mount concealed fixing clip unique is that, only one side of the plank is secured to the underlying sleeper. This allows the opposite side of plank to move naturally with contraction and expansion. This simple fixing technique guarantees steady and even gap spacing between planks over time as well as end-to-end planks.
ExtremeKD® Hardness
Allows for Expansion of Planks
Polyethylene Material Guarantees Long-Lasting Performance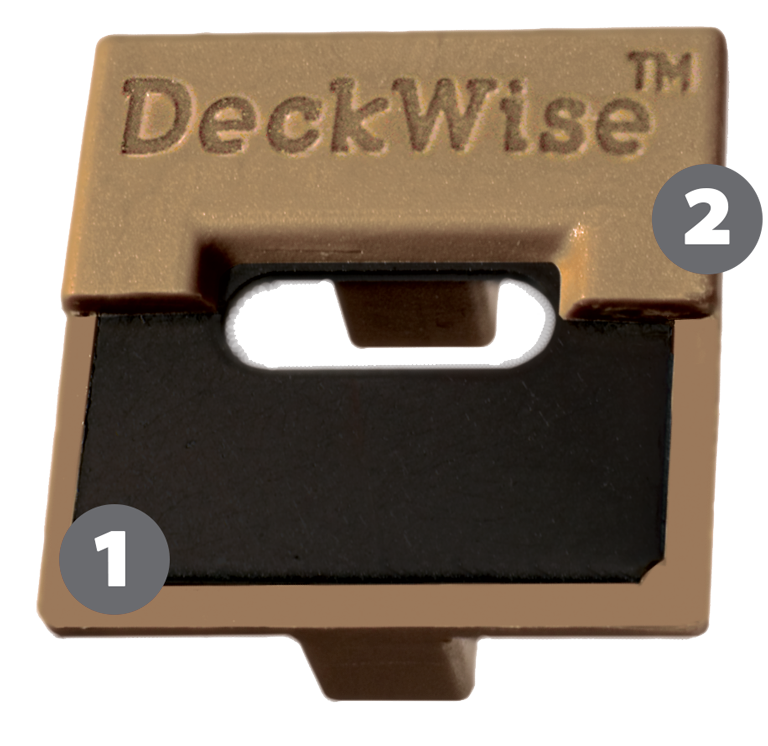 1. Hardened stainless steel reinforcing insert
Guarantees exact screw positioning and prevents over driving
Coated with black oxide for long lasting anti corrosion
High quality hardened stainless steel reinforcing insert
2. Polyethylene Plastic Resin Square Shape
U.S. Patented fixing biscuit shape allows more contact with wood grooves
Spacer wedges return to original size after timber expansion
Casing is injection molded polyethylene resin for toughness
Designed for hardwood terraces, the color of the plastic resin also works to further camouflage and conceal our invisible terrace fixings between the plank gaps for a concealed fixing method. Also perfect for thermally treated woods!
Our strong stainless steel insert firmly holds planks to sleepers (up to 3X more hold-down strength than other slot mount fixings), eliminating any chance stainless steel screws will pull through the fixing as the imported timber expands.
---
Incorporated Spacer
Wedge Leg
Automatic 6,4mm Gap Spacing Between Plank Timbers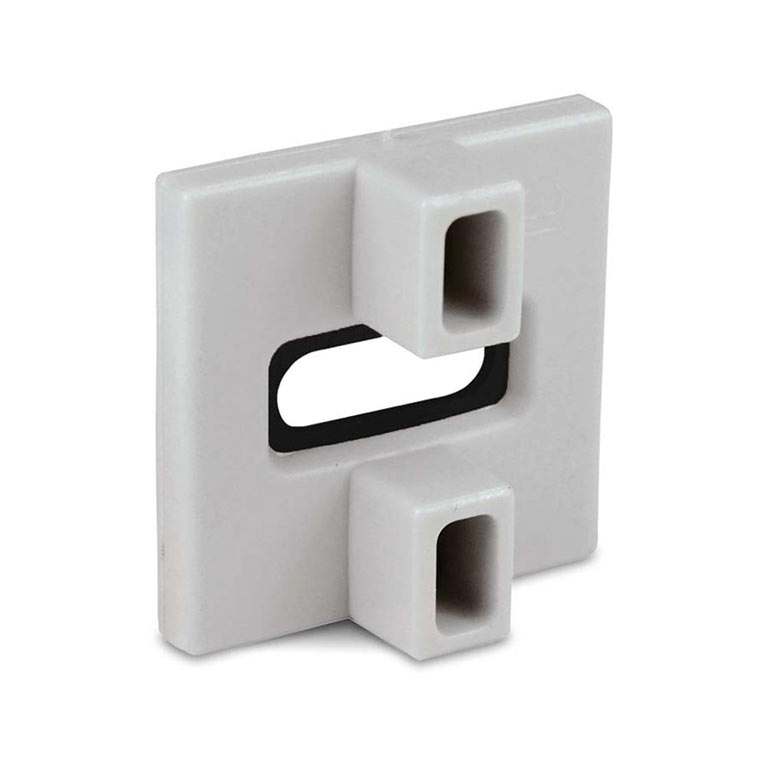 1. Hollow spacer wedge leg on the ExtremeKD® absorbs the movement of timber planks and returns to its original shape.
2. The 6,4mm spacer wedge guarantees proper spacing between planks. (Careful attention must be made towards the degree of acclimation to the job site prior to installation; species of wood used; the plank width; and weather climate conditions.)
3. U.S. patented design guarantees higher strength of the fixing during installation.
4. Use With Exotic Hardwoods, Thermally Modified Woods and Composites.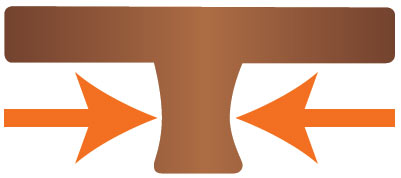 Hollow leg acts as a shock absorber
Identical Plank Gap Spacing
High-Quality Polyethylene Plastic
Fixing
Dimensions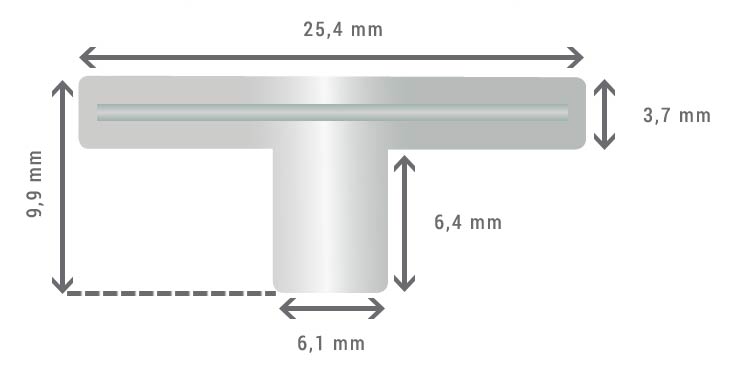 Hardwood Clip
Construction
| Material | Stainless Steel Insert | Available Color |
| --- | --- | --- |
| Polyethylene | 22,4 x 22,4 x ,9mm | |
Timber
Compatibility
| Air-Dried Timber | Kiln-Dried Timber | Composite Timber |
| --- | --- | --- |
| | | |
Resources for Architects &
Builders
CSI Divisions & Specs
---
Enables Expansion on the Width of
Kiln-Dried Hardwoods
Screwing fixing clip screws with our standard black trim-head screws is quick and easy. Screw heads hide perfectly in the clip insert for a clean, out of sight finish. Or use the DeckWise® (Heat-Treated Stainless Steel) screws that offer a specially engineered four-sided nail point tip and a serrated thread design. The serration minimizes plank splintering or splitting, even when screwing near the plank edge. Pre-drilling is always recommended.

Screwing Terrace Planks to
Sleeper Joists
Terrace fixings are screwed through the timber plank side groove down into sleepers at a 45° angle.
The ability to install stainless steel screws at a 45 degree angle through the hardwood plank greatly increases hold-down power. Studies have proven that, screws have more holding strength when ran at an angle which allows screw threads more grip. This specific method also retains even plank gap spacing while correctly allowing planks to expand and contract with the weather seasons.
Promises a strong solid surface, free of face screws
Ensures perfect alignment of timber plank gaps
Easily install ExtremeKD® fixings from the topside down, not underneath
Allows planks to naturally expand and contract on one side only
Stainless steel screws affix planks tightly for a long-lasting terrace
Self-drilling screws make installations fast and efficient
---
Enables Expansion/Contraction on the Length of
Composite Materials
Driving terrace screws directly down at 90 degrees (through the terrace clip) with PVC and composite materials permits them to move naturally along their length. There is no need to screw through the plank itself. Plank gaps will remain precise and fixings will be concealed inside the timber gaps.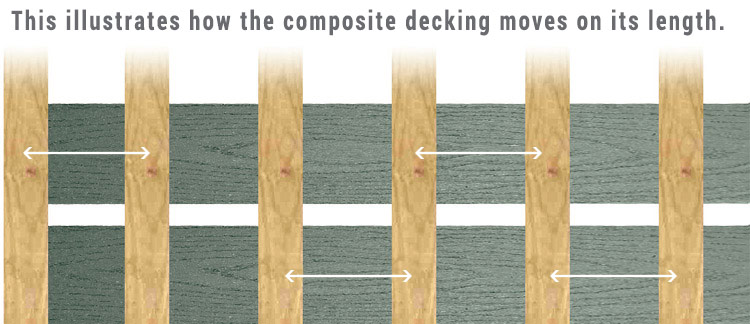 Deck

Wise® ExtremeKD®

Installation Specifications

Plank
Compatibility
| Plank Thickness | Plank Width |
| --- | --- |
| *A = Measurement Of Plank Thickness | **B = Measurement Of Plank Width |
Groove
Dimensions
| Thickness of Cut | Cutting Height | Cutting Depth |
| --- | --- | --- |
| C = 4mm | ***D = (A-4mm)/2 | E = 13mm |
Plank
Spacing
During Installation
****F = 6,4mm
* If utilizing 38,1mm or thicker material, longer screw options may be required than what is generally included with the invisible terrace fixing kit.
** For terraces 20,32cm or wider, the (A) dimension must be at least 38,1mm. Utilizing a wide plank such as this for outdoor terraces will almost certainly generate cupping issues despite of how the material is secured if thicker material is not used.
*** This formula will produce a symmetrical profile that enables you to reverse and/or rotate the plank enabling the best side to be installed.
**** Fixing clip instantaneously produces proper gap spacing when planks are pushed close together in the course of installation.
---
Reversible/Symmetrical
Terrace Planks
Either Side of the Timber Planks Can Be Installed
Symmetrical Side Grooves: Timber planks have symmetrical side mount grooves and are centered in the middle of the plank edge.
Two Smooth Surfaces: Timber planks have symmetrical side mount grooves and are centered in the middle of the plank edge.

No matter what specie of hardwood you choose, they are not always flawless on both sides. Most terrace fixing systems have a side mount profile that does not allow terrace planks to be flipped for the perfect smooth surface. This is not true with our ExtremeKD® invisible terrace fixing clips because we allow for an edge groove that is symmetrical on both sides.
Perhaps there is a blemish on a portion of a timber plank? Simply reverse the plank and install the best looking side face up. Because our system utilizes either side of the plank, installation time is increased and profits are not lost on planks that cannot be installed.
Ask your timber yard to pre-groove your planks or use a router on the job site to cut the slots for fixings.
---
Terrace Plank
Replacement
Review these steps to replace timber planks
DeckWise® ExtremeKD® invisible terrace clips have the added benefit of easy and simple plank replacements. There is no need to disassemble the terrace just to remove a damaged timber plank. Simply follow this link to view the steps needed in our Plank Replacement Guide.
Plank Replacement Guide
Available Clip
Kit Options
DeckWise® Invisible Clip Fixing kits (185 count) can easily be mixed with alternative combinations of our heat-treated patio screws or trim-head terrace anchoring screws. Invisible Clip Kits may also consist of 3 colours of hardwood clips as well as assorted size spacer wedges for specific terrace installations.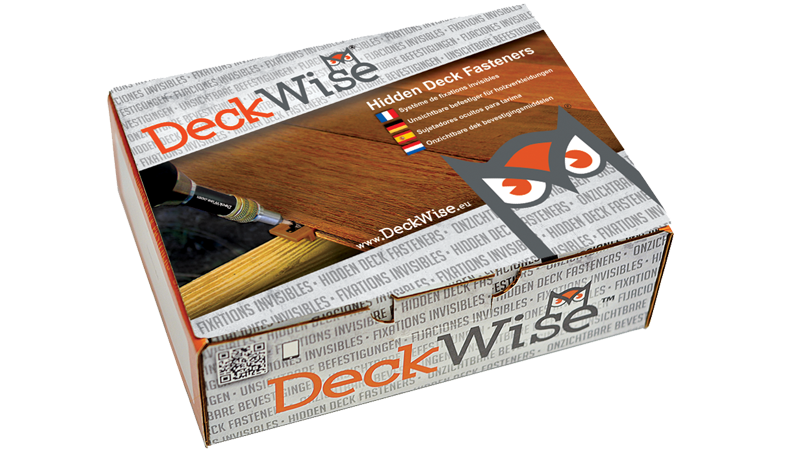 Complete
Kit
(185)

Deck

Wise® ExtremeKD® Invisible Clips
(200) 4 x 50mm Stainless Steel T15 - Star Drive Black Screws
(12) 9,5mm Tapered Ipe Plugs
(1) 3,2mm High Speed Drill Bit
(1) T15 Star Driver Tips
(3) Spacer Wedges
(1) Instruction Sheet
---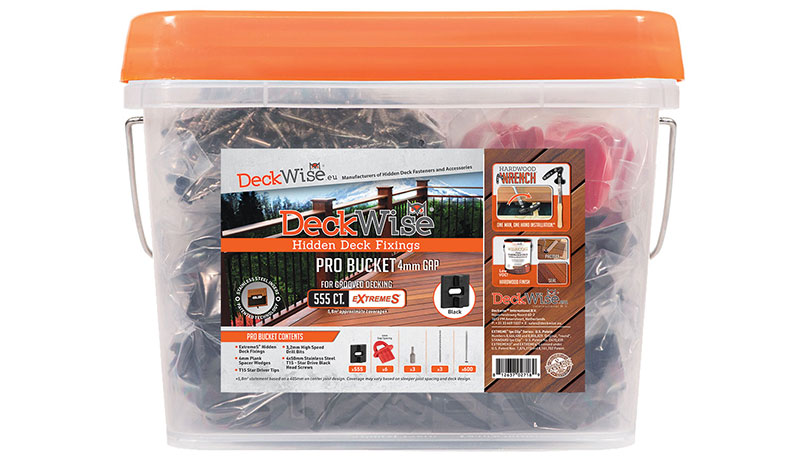 7,5L PRO
Bucket
(555)

Deck

Wise® ExtremeKD® Invisible Clips
(600) 4 x 50mm Stainless Steel T15 - Star Drive Black Screws
(3) 3,2mm High Speed Drill Bit
(3) T15 Star Driver Tips
(6) Spacer Wedges
(1) Instruction Sheet
---

ExtremeKD®

Stainless Steel Screws

Wedge Gap Spacers

T15 Star Drive Tip

3,2 mm Drill Bit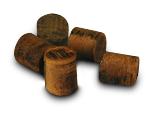 9,5 mm Plugs