• We continue to take orders and ship during this global situation •
Hardwood Wrench™ Plank Straightener
Hardwood Wrench™
One-Man, One-Hand Installation®
Effortlessly straighten, squeeze and keep terrace and cladding planks in place.

Our Hardwood Wrench™ design is the original invention for straightening terrace and cladding planks utilizing a "locking cam." Our tool offers true One-Man, One-Hand Installation® of invisible fixing clip installments. Use on terrace planks with single sleeper joists between 70mm-80mm and up to a maximum of 95mm. Easily flip the gripping pins to use on cladding strips 25mm x 40mm (thickness x width) for hardwood cladding installations. Patented in the USA in the year 2010, it is truly simple to use by a single installer and has multiple benefits over other timber plank bending techniques. With a simple swing of the tool's handle, even the most warped timber planks can be straight as an arrow utilizing its' 500 Kg of pushing force.
---
Save time.
Increase Profits.
The standard method of two installers prying, shoving and pounding hardwood planks into place with a chisel... is in the past. With this tool, just one installer can secure invisible terrace fixings or cladding planks with a single hand. This allows other installers the capability to concentrate on additional building activities on the job site. This raises production levels, which adds to profit margins by cutting overhead cost down. The versatility of this tool provides 10 different configurations for small areas, vertical, over head and horizontal installations.
Patent Numbers: US 8,936,054; D623,913; EP 2,387,648; DE202010001036.5; UK 2,469,964; AU 2010210940; CA 2,749,643. Other U.S. and International patents pending.
To learn more about the Hardwood Wrench™, click the button below.
More Info
10
Configurations
Right hand single joist

Right hand double joist

Right hand reverse handle single joist

Right hand reverse handle double joist

Left hand single joist

Left hand double joist

Left hand reverse handle single joist

Left hand reverse handle double joist

Right hand furring

Left hand furring
---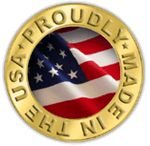 Our Hardwood Wrench™ is the most advanced plank straightening tool on the market. A true One-Man, One-Hand Installation® tool with 10 different directional configurations delivers 500kg of pushing force. The Hardwood Wrench™ offers 8X additional bending power in comparison with other imitation plank straightener tools.
A premium quality American Ash hardwood handle and stainless steel sub-frame gripping pins have been premium made in the USA to provide builders the ability to straighten warped planks from both left and right hand directions. This feature can be extremely useful, especially when planks require straightening outside of your framing area.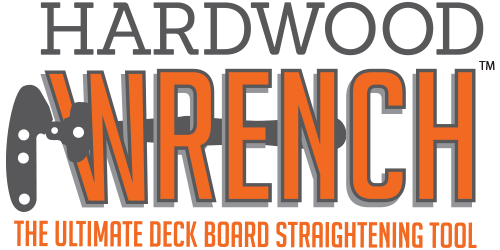 Multi-Functional
Timber Tool
When builders realize our plank bending wrench incorporates a locking cam that will allow them to let loose of the handle when installing timber planks, they get excited! They instantly recognize they won't need a knee propped up to hold the tool in place. This tool stays in place and will never slip off the plank… such as other timber straightening tools often do.
---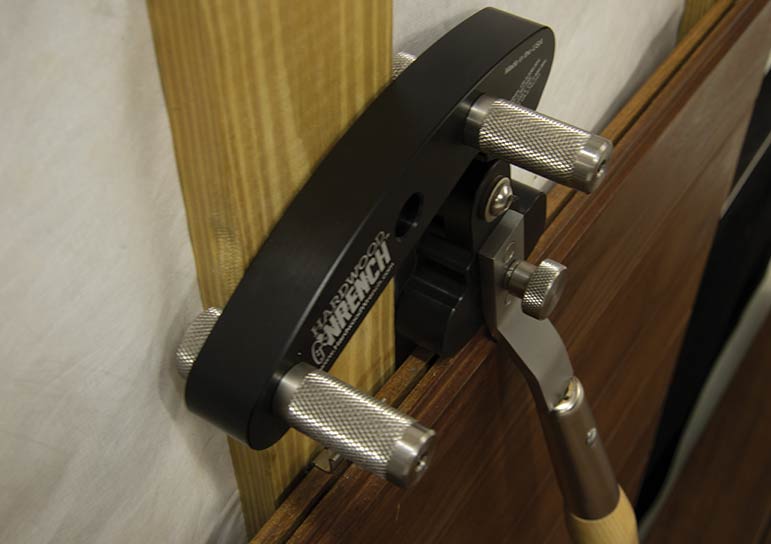 Cladding Timber
Straightening
The Hardwood Wrench™ is additionally designed for use on hardwood cladding planks to assist with bending timbers into place for perfect alignment. Simply reverse the joist sleeper pins and move the outside pin to the farthest pin hole on the dog-leg of the tool. The locking cam pushes cladding planks down into position. Cladding planks will stay in place for screwing DeckWise® invisible stainless steel fixings as well as produce perfect cladding alignment.
Hardwood
Wrench™
Knurled Stainless Steel Pins Grip Subframing
Ash Wood Handle Reverses to Right or Left Hands
Long and short Adjustable Stainless Steel Gripping Pins
Aircraft Grade Anodized Aluminum Cam
Multi-Position Handle to Match Workspace
500 Kg of Pushing Force
Cam Locks and Holds Planks in Place
---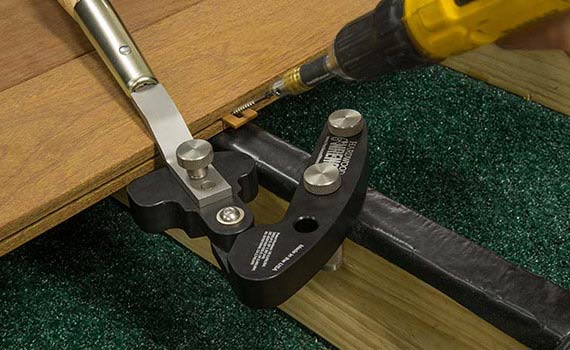 Operate from the
Left & Right
Cam locks for quick and easy fixing installation
Ready to go out of the box, the Hardwood Wrench™ can handle any job. With no additional tools or parts, the Hardwood Wrench™ was designed to work as hard as you do.
Our premium American Ash wood handle and sleeper pins allow you to straighten deck timber planks from both left and right directions. Straighten deck planks outside the deck frame with ease.
If you wish to find out more information on the Hardwood Wrench™, feel free to contact us online or call at + 31 33 469 1037
Learn More
---
Reversible
& Expandable
Effective with single or double sleepers up to widths of 8,9cm and all kinds of decking, such as pre-grooved or standard hardwoods, composites, & PVC. The reversible handle is great for working in areas of limited space, as well as accommodating 10 multi-directional configurations.
Need replacement Knurled Stainless Steel Joist Pins? contact us
---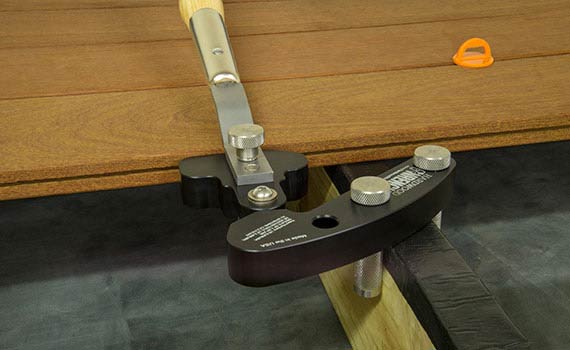 Truly
Versatile Design
With the Hardwood Wrench™, everyone has the ability to straighten the toughest and most warped deck planks from just about any angle. The handle can be easily flipped, reversed, and expanded to bend any bowed deck plank you come across. The knurled sleeper knobs can also be used to grip framing without adequate clearance which makes the tool much more versatile than other brands on the market.
Use our plank straightening tool with our stainless steel cladding fixings on hardwood cladding by simply using the sleeper pin's backside knobs to lock onto furring strips against the house.
Straighten
Effortlessly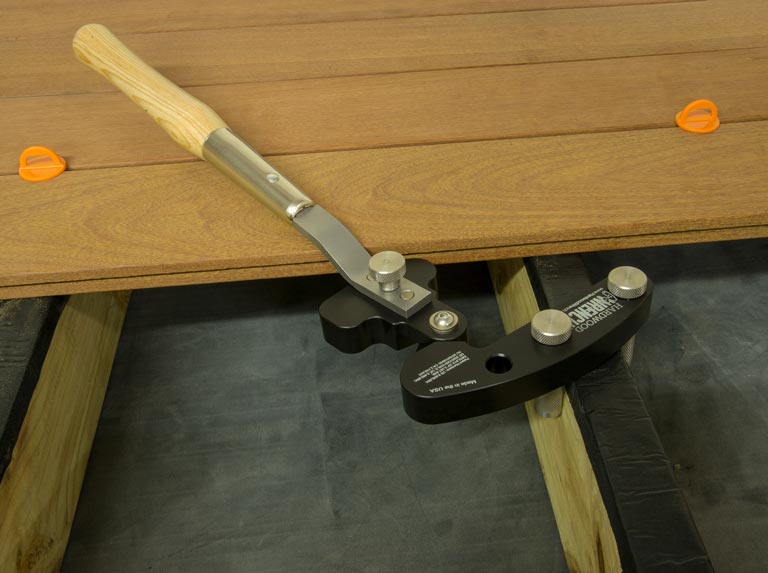 Place the Hardwood Wrench™ tool on the sleeper joist.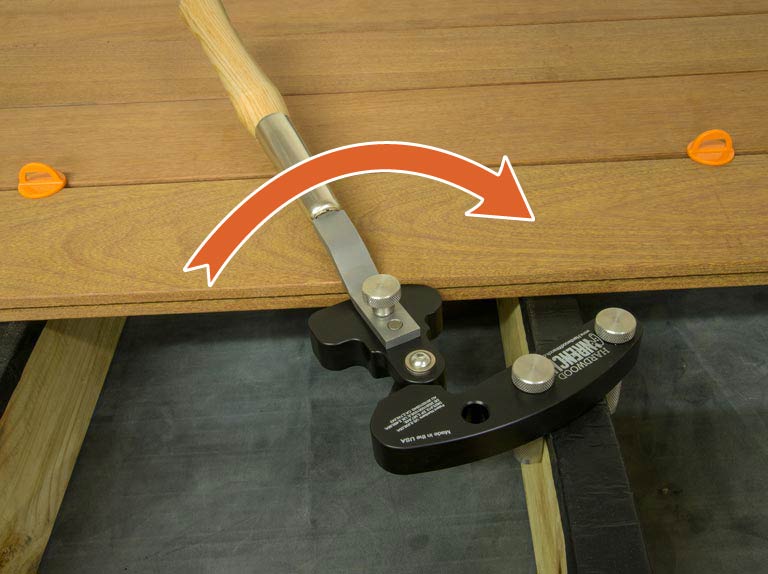 Rotate the handle to push the terrace plank into position.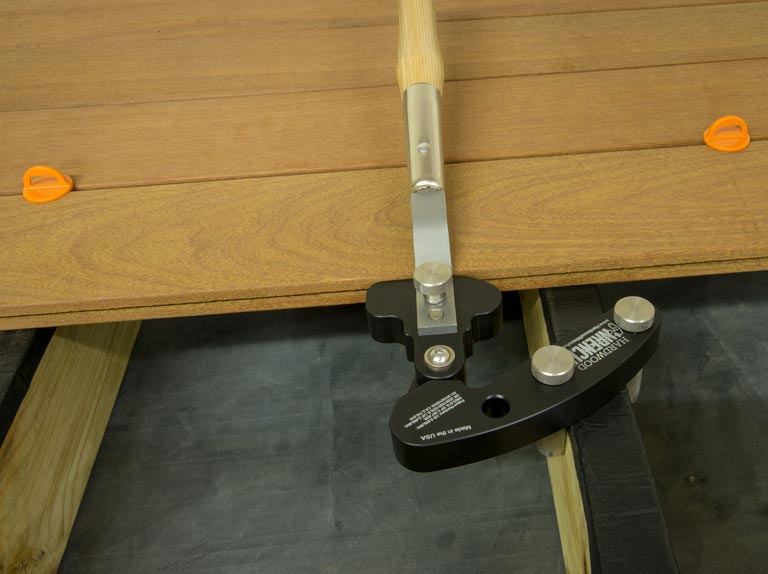 Cam locks in place holding planks straight while fixing clips are installed.
We hear it all the time; "I wish I had that last week!" It never gets old to see the delight contractors and builders have when they first see the DeckWise® Hardwood Wrench™ in action. When contractors and installers consider how back breaking it is to wrestle stubborn hardwood planks, they marvel at the Hardwood Wrench™ ease of use.
Our self-locking Hardwood Wrench™ plank straightening tool works by holding planks in place and straight while invisible fixing clips are installed. Watch this How To video for a complete review of the tool in action.