Trim-Head Screws
For Hardwood Terrace Building
Suitable for Hardwoods and Thermally Modified Timber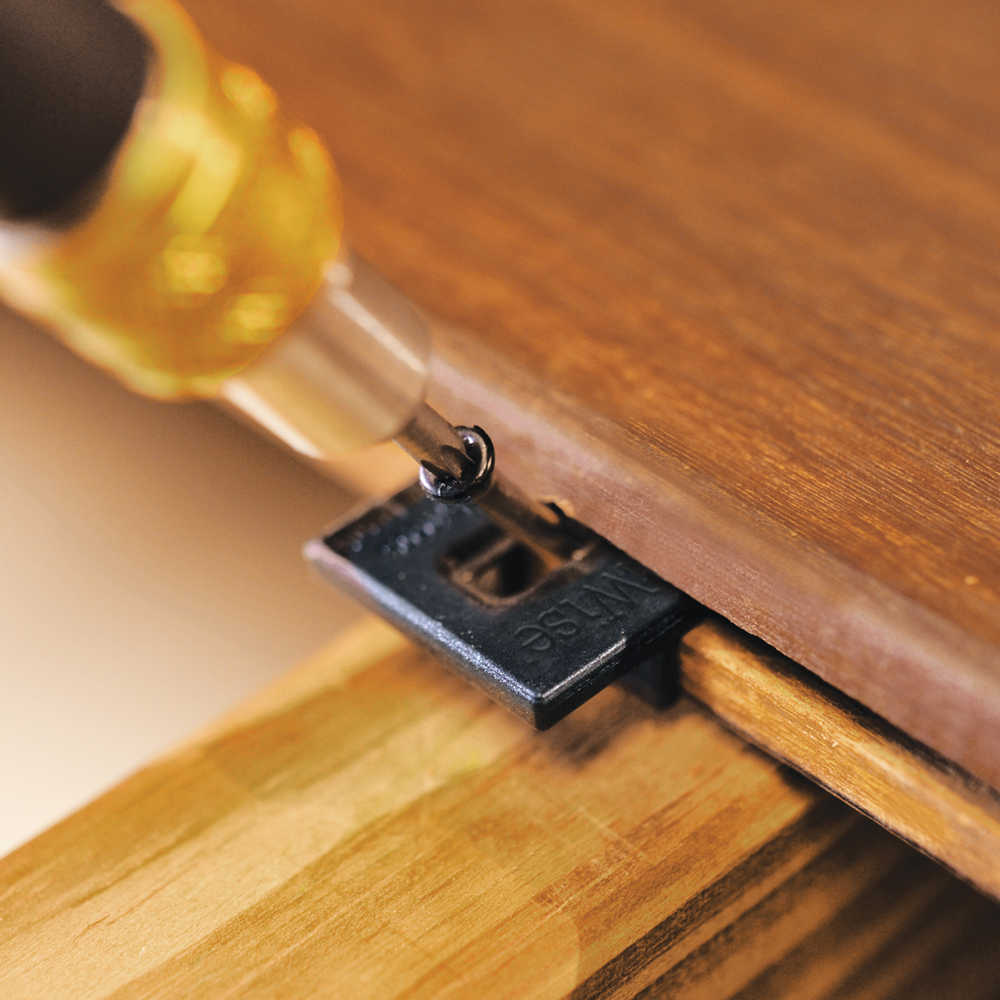 A2 & A4
Stainless Steel
Stainless steel screws from DeckWise® are an excellent way to guarantee hardwoods and thermally modified timber planks hold tight to sub-structures. A great addition to our building product line, our standard black painted head crews arrive inside each invisible terrace fixing kit; unpainted stainless steel screws arrive with our invisible cladding fixings. These trim-head screws are favored by professional contractors, builders, landscapers and DIY homeowners providing a strong, reliable system to install terraces and cladding from a brand they can trust and rely on.
---
Pre-Drilling
Hardwoods
For any hardwood or thermal wood we continually require pre-drilling screw holes. This eliminates the possibility for cracking the timber plank during installation. These trim-head screw threads make it easy to achieve a clean and professional finish with invisible fixings assuring maximum grip and hold down power. When installing most softwood planks, pre-drilling is not necessary.
Save time & money with pre-drilling... Read More
---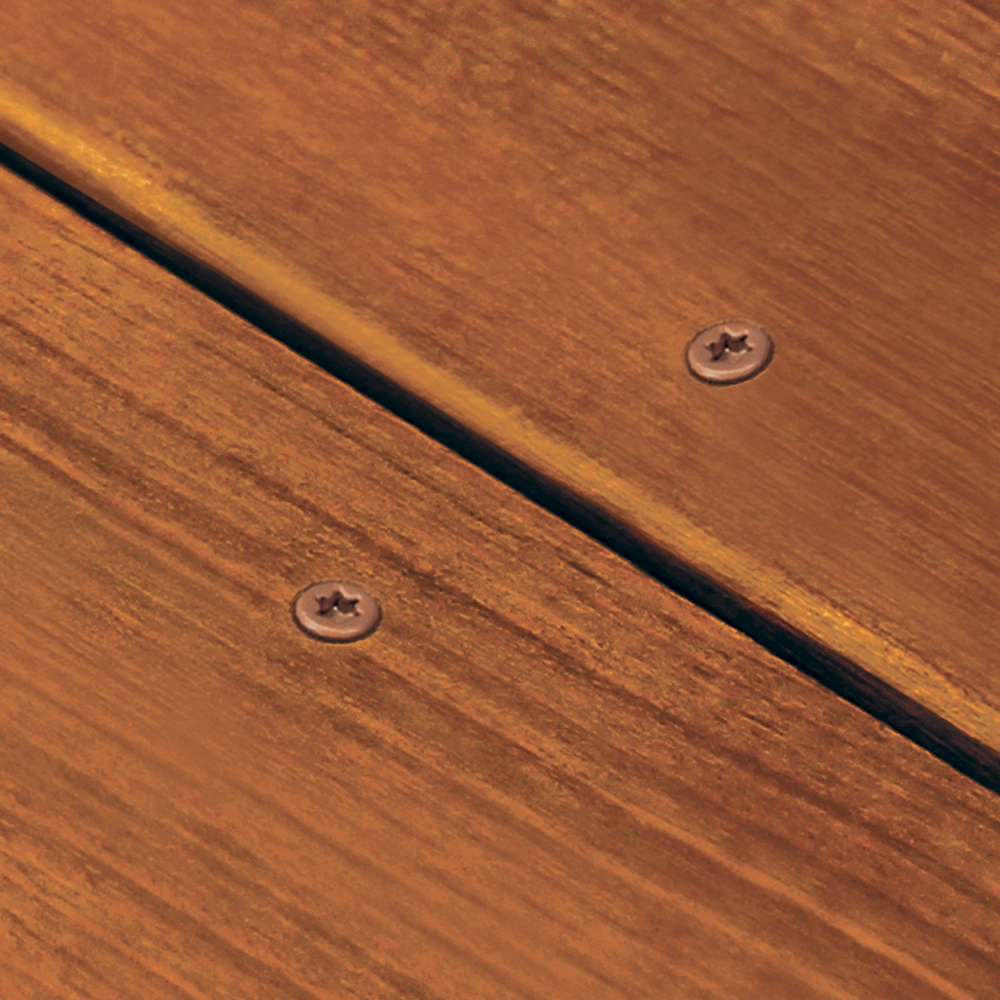 Top Side Face Screwing
Terrace Planks
For a clean and uniform appearance when screwing planks from the top side, always pre-drill and countersink for screws and hide them with hardwood plugs. Achieving a perfect and consistent countersink depth below the surface (9,5mm) is quick with the DeckWise® Drill & Drive™ drill bit set. This tool kit makes countersinking holes for face screws effortless. Easily hide screw heads under hardwood plugs to produce a smooth terrace surface for families to enjoy for years to come.
---
Color Coated
Screw Heads
The DeckWise® painted trim-head terrace screws can be ordered in six (6) colors. Shadowline Black; Hardwood Brown; Stainless Steel; Cedar; Rosy Brown; & Outdoor Grey When installing EXTREME® invisible hardwood clip fixings we suggest using the standard black painted trim-head screws included in each kit. They hide flawlessly tucked inside the black stainless steel insert of the clip. For face screwing planks, color match screw heads to your exotic hardwood specie and many thermally modified timber specie for the best results producing beautiful terraces.
Choose Between
6 Different Colors
* Colors are subject to availability
Our Trim-Head TORX® T15 deck screws are manufactured from high grade A2 & A4 stainless steel; have painted heads for better camouflage between timber planks.
Type 17 auger tip for easy penetration
TORX® T15 Star Drive
Authentic TORX® bit housing
Colored head options available
Increased productivity
Better torque and tool lifetime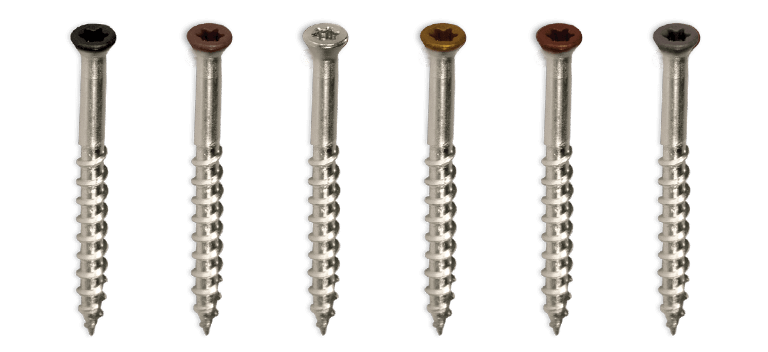 ---
| RANGE | 4 x 25 mm | 4 x 38 mm | 4 x 50 mm | 4 x 64 mm | 4 x 79 mm |
| --- | --- | --- | --- | --- | --- |
| 100 CT | | | | | |
| 350 CT | | | | | |
DeckWise® B.V. currently offers trim-head screws in six popular colors. All DeckWise® trim-head screws are manufactured using high quality A2 & A4 stainless steel. Stainless steel trim-head screws are packaged and sold in 100 and 350 count quantities.