Metal Joist/Sleeper
Terrace Screws
The perfect choice for stainless steel terrace framing.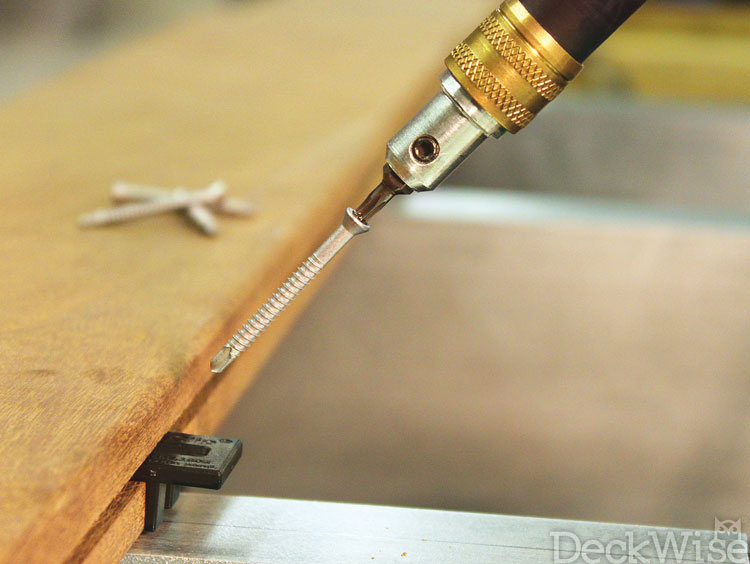 Theses Metal Joist/Sleeper Terrace Screws are also available as options with any Invisible Terrace Fixing Kit combination.
Use for terrace installations with stainless steel subframing.
Professional contractors, architects and DIY home owners are beginning to utilize metal joist substructures more often these days. Metal framing ensures a longer-lasting terrace and adds strength to the foundation. The DeckWise® Self-Tapping Metal Joist/Sleeper Screw is designed implicitly for metal joist framing applications.
This handy terrace fixing screw can be used to install most types of terrace materials such as heat treated lumber (thermally modified), South American hardwoods, composite and PVC with aluminum and stainless steel substructures. Pre-drilling pilot holes through the terrace plank is still highly recommended to avoid splitting the plank edge.
This self-tapping screw has a specially engineered auger tip that will penetrate the metal joist/sleeper. The DeckWise® metal joist sleeper screw are made from high performance stainless steel which allows terrace builders to provide their customers with a uniform and smooth surface when installed with our Invisible Terrace Fixings.
find a dealer
---

Star shape recess and undercut head:
Deep T15 Star tip head recess; engineered head allows for less slipping and stripped of the screw head
3X strength & corrosion resistance:
410 stainless steel with Xylan coating and Bright hardening
Auger drill point:
#3 drill point auger penetrates into timber planks with ease and cleanly pierces the underlying metal joist/sleeper
Assorted Colors & Lengths:
Available in three colors and two sizes.
DeckWise® Self-Tapping Metal Joist Sleeper Screws are now available as an option in all DeckWise® Hidden Deck Fastener Kits.
| QTY | 3,9 x 41mm | 3,9 x 57mm |
| --- | --- | --- |
| 100 CT | | |
| 350 CT | | |