• We continue to take orders and ship during this global situation •
DeckWise® B.V. Authorized Dealer
Always Purchase from an
Authorized Deck

Wise® B.V.

Dealer!
---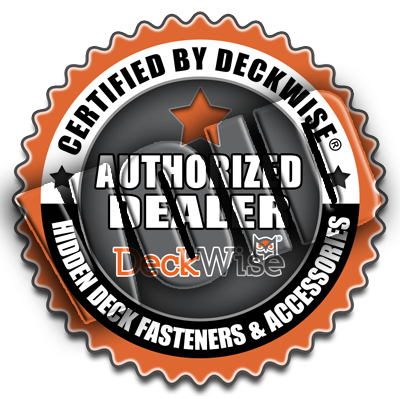 DeckWise® B.V., The Ipe Clip® Fastener Company, LLC, proudly offers their products using a carefully chosen Authorized Dealer network. When you do not notice the official DeckWise® B.V. Authorized Dealer logo, then it is certainly not an Authorized Dealer. Only merchandise purchased from a DeckWise® B.V. Authorized Dealer will qualify for our personal manufacturer's Limited Warranty, backed by many years of exceptional customer program through our Authorized Dealer community. Buying from an authorized dealer is the ONLY means you get a certified dealer to support you with the use of any DeckWise® B.V. product. Only dealers certified by DeckWise® B.V. are fully committed to offer excellent pre-sale and post-sale consumer service and to maintain DeckWise® B.V. standards.
WARNING: DeckWise® B.V. can not guarantee the genuineness of items UNAUTHORIZED DEALERS are selling, and you posses legal rights given to you by our latest product Limited Warranty. In order to be certain of your warranty coverage, be sure to always check the warranty statement found on our Warranty page at https://www.deckwise.eu/product-warranty. At your convenience, Warranties can easily be downloaded from our website; we highly recommend you review the Limited Warranty statement prior to making any purchase from a retailer.
---
Why buy from an Authorized Dealer?
Not every DeckWise® B.V. retailer advertising deck accessory products has been officially authorized by DeckWise® B.V. to sell or advertise those products. Unauthorized resellers could be selling fake, used, damaged, or even altered merchandise, and frequently do not even have our products in inventory to ship. Buyers that have purchased from non-authorized sellers often report problems contacting such non-authorized sellers for post-sale assistance and in many instances have experienced credit card fraud as a result.
Authorized DeckWise® B.V. Retailers strive to provide an exceptional consumer experience which helps you make the ideal choice for quality decking supplies. Authorized Retailers deliver high quality products and services you expect and deserve whenever you purchase a DeckWise® B.V. deck constructing product. We encourage everyone to search for the DeckWise® B.V. Authorized Dealer badge wherever a person chooses to shop.
LOOK FOR THE
AUTHORIZED DECK

WISE®

DEALER

LOGO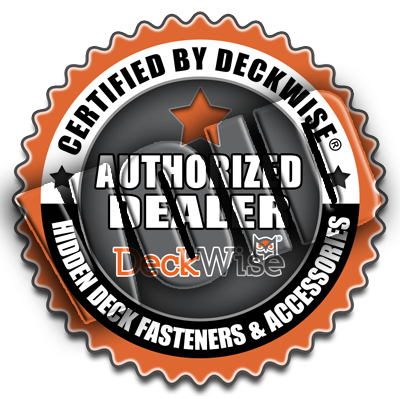 You can count on DeckWise® B.V. Authorized Dealers for:
Trained staff will be able to answer questions about decking products
Expert support in installing and using our products
A dedication to providing exceptional customer service
Genuine factory-fresh and up to date products
Professional and courteous treatment
Convenient return procedures
Only Authorized Dealers have accessibility to DeckWise® B.V. Product Managers and skilled customer service associates and receive nonstop product training to guarantee you get the most current product information. In addition, DeckWise® B.V. oftentimes has special item promotions available exclusively through Authorized Dealers.
No Authorization,
No Guarantees
We recognize that unauthorized sellers may show up on a marketplace website, managed by companies such as Amazon.com or ebay.com. While a few DeckWise® B.V. dealers themselves are approved to sell on Amazon.com and ebay.com, many other 3rd party sellers on these marketplaces are not, so a person must always confirm that each seller is certified by DeckWise® B.V. prior to making a purchase.
DeckWise® B.V. Authorized Dealers are required to take actions to guarantee the integrity of your DeckWise® B.V. purchase, as opposed to many unauthorized sellers who offer items with altered or even obliterated UPC codes; merchandise with tampered UPC codes void the DeckWise® B.V. product Limited Warranty immediately. We also get reports of unauthorized sellers offering used merchandise as "new" when they are out of date.
It is not our position to audit unauthorized resellers or other 3rd party unauthorized retailers to determine if they meet our high customer service standards. Because we generally have absolutely no relationship with unauthorized resellers, we are unable to assist you if you encounter any difficulty with their customer service. Again, for these reasons we highly recommend you buy DeckWise® B.V. items only from an official Authorized DeckWise® B.V. Dealer.