Invisible Fixing Clips
For Terraces

(4mm)
Use on Air-Dried, Kiln-Dried Timber, Thermal Wood & Composite Material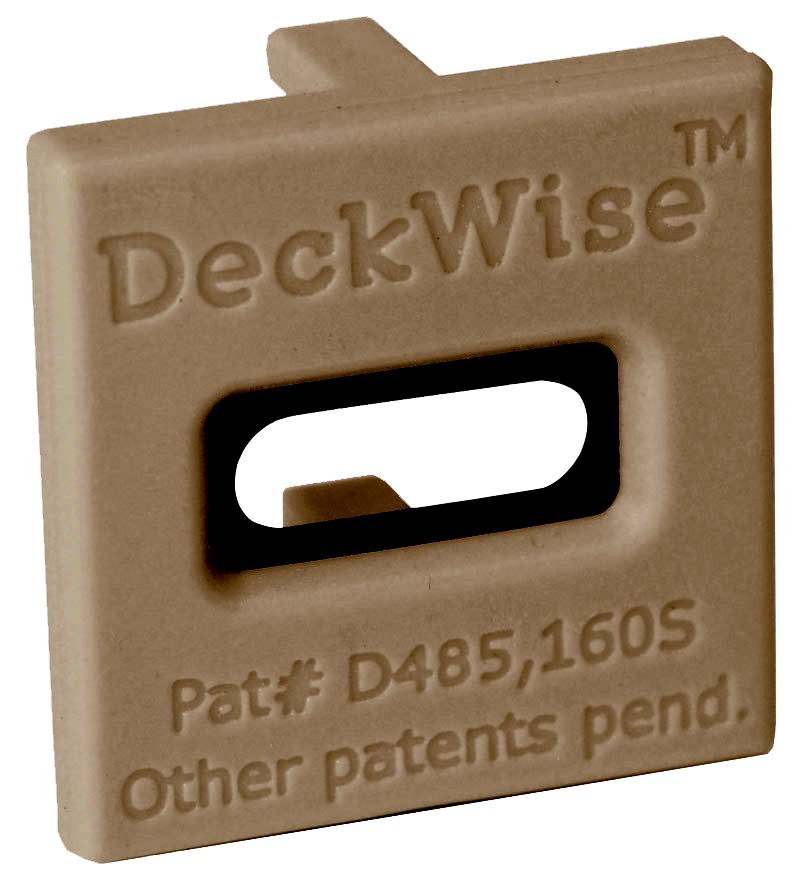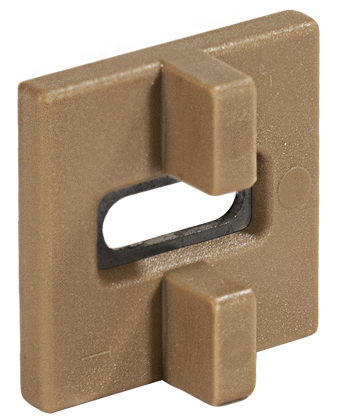 Choose trim head screws (black painted head only) or self-drilling/heat treated screws to be packaged with your DeckWise® Hardwood Fixing Kits (185 count).
EXTREME® Ipe Clip® Series - U.S. Patent Numbers 8,464,488 and 8,806,829. Original, "round", STANDARD Ipe Clip® - U.S. Patent No. D470,039. EXTREMEKD® and EXTREME4® Licensed under U.S. Patent Nos. 7,874,113 and 8,161,702 Patent.
Product
Features:
Integrated spacer wedge perfectly spaces planks at 4 mm
Constructed from UV resistant polyethylene resin
Stainless steel insert coated with black oxide for corrosion resistance
Fixing screws installed a 45° angle into plank down into sleeper joists
Unique design provides more surface area contact in groove profile for added strength
Suitable for air and kiln dried hardwoods, composite, or thermo-wood planks
Permits air dried hardwood contraction on its width
Permits kiln dried hardwood expansion on its width
Permits PVC and composite movement on its length
Choose from 3 clip color options; Black, Brown, Grey
Limited Warranty available
Premium American Made &amp U.S. patented
Dealer Resource Portal
Timber Specie Chart
---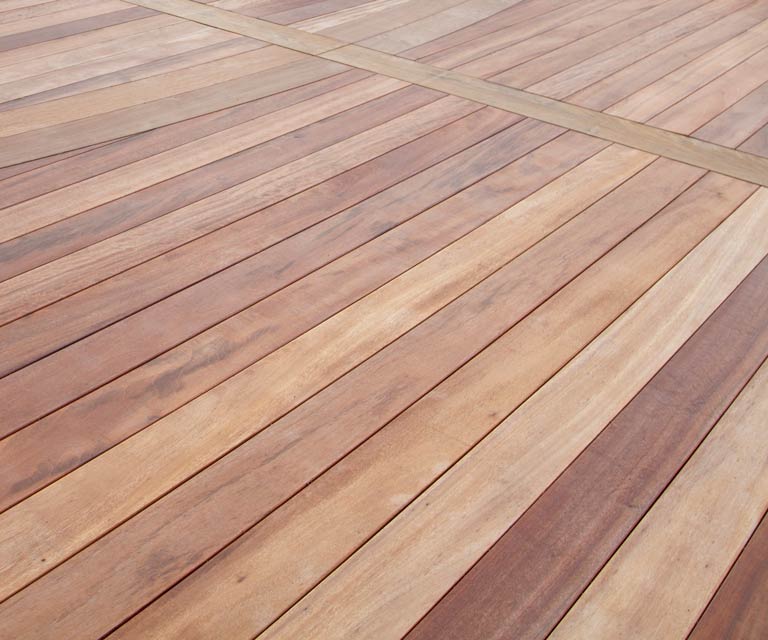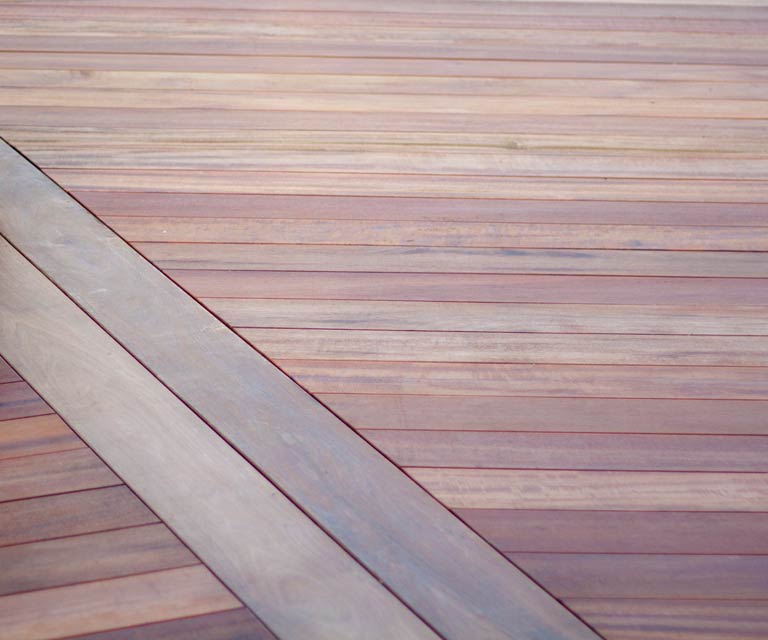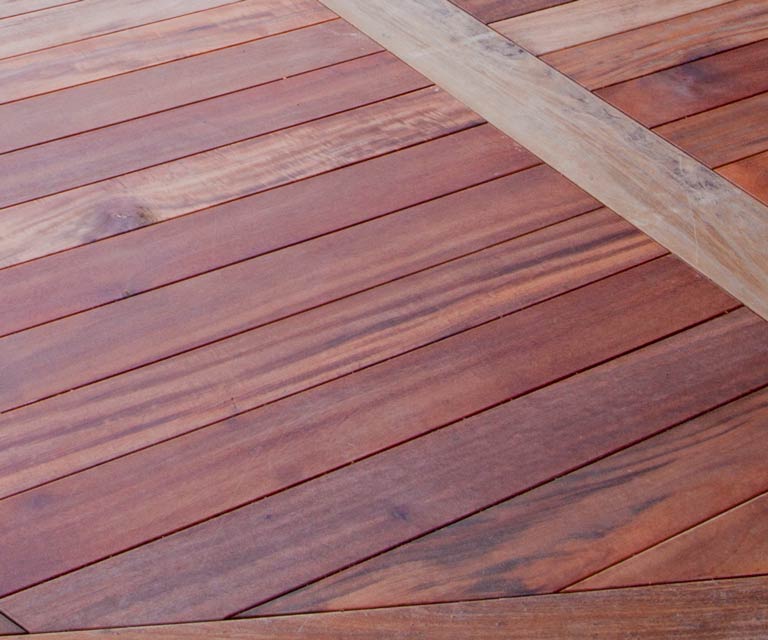 ---
Timber Planks
Stay in Place
Precise Gap Spacing & Plank Position

1. Expansion direction of plank 2. Contraction direction of plank 3. Top of the terrace timber planks 4. Screw secured side of planks
Our unique EXTREME-S® side-mount concealed hardwood fixing clips were invented and patented in the USA in the early 2000's. The reason they work so well is because only one side of the timber plank is fastened to the underlying sleeper. This permits the opposite side of plank to move naturally. This simple terrace fixing method guarantees even gaps over time as well as end-to-end terrace planks.
ExtremeS® Toughness Allows for
Expansion on Plank Width
Polyethylene Material Promises High Performance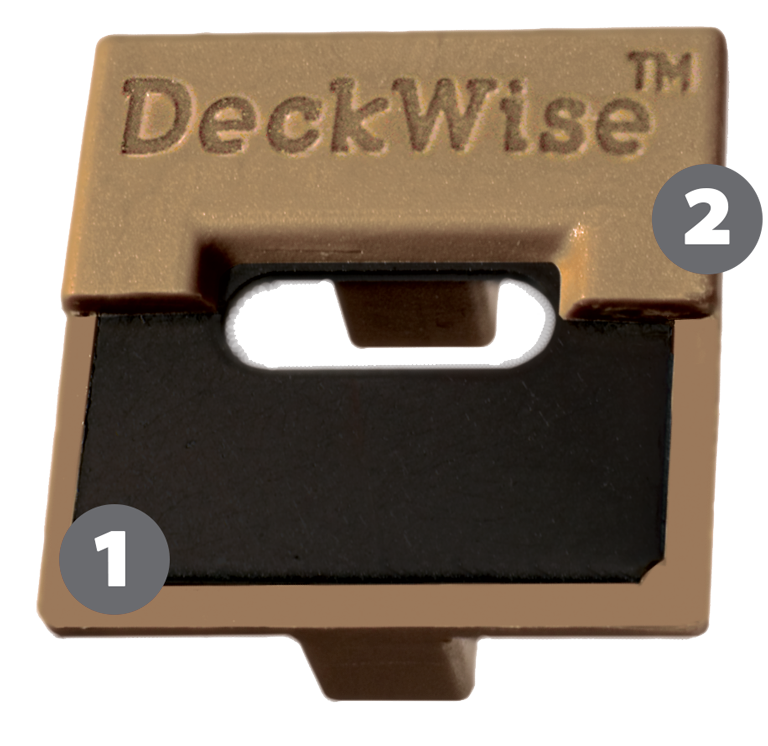 1. Hardened reinforcing stainless steel insert
Guarantees precise screw positioning; prevents over-driving
Black oxide coating for added corrosion resistance
High quality hard stainless steel used in manufacturing
2. Square Biscuit Design Made With Polyethylene Resin
Biscuit shape has more surface contact with the plank
Polyethylene resin injection molded for additional strength
Integrated spacer leg wedge returns to its original size after compression
Invented for hardwood terraces, the colour of the EXTREME-S® concealed fixing clip also helps to further camouflage and make it invisible between timber plank gaps. Hence, it is truly a concealed terrace fixing system. Also perfect for thermally modified timber!
The hardened stainless steel insert adds hold down strength between terrace planks and sleeper joists. Up to 3-times more holding power than other imitation invisible terrace fixings. This removes any chance terrace fixing screw will pop up as the timber planks expand and contract.
---
Integrated Spacer
Wedge
Automatic 4mm Timber Plank Gap Spacing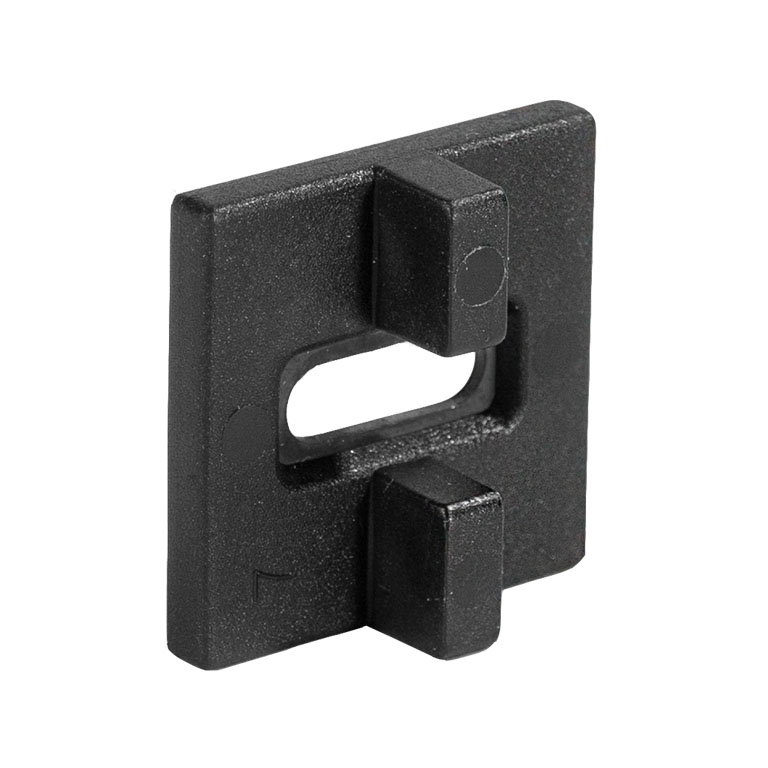 1. The solid spacer wedge leg on the ExtremeS® compresses with the movement of terrace planks during expansion. It will return to its original shape once the plank begins to recede.
2. The 4mm wedge spacer guarantees consistent spacing between planks. (Attention must be made to climate acclimation on the job site before installation; specific wood specie used; plank width; and climate conditions.)
3. U.S. patented stainless steel insert design guarantees higher strength of the fixing clip during installation.
4. Use with most Hardwoods, Thermally Modified Woods and PVC/Composite materials.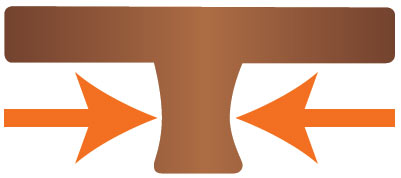 Compressed leg Wedges Return to Original Size
Plank Gap Spacing is Guaranteed Uniform
Polyethylene Resin Injection Molded Around Insert
Fixing
Dimensions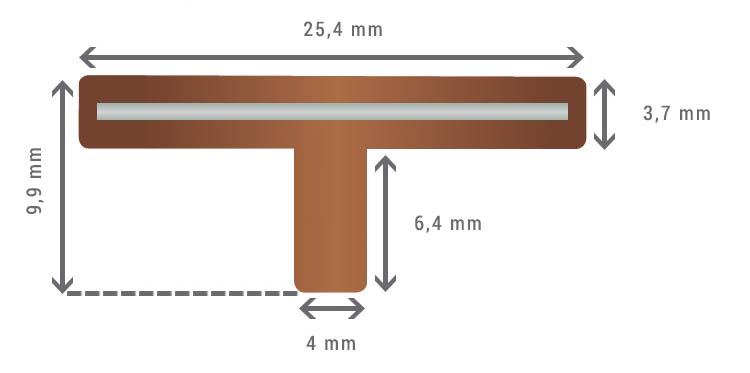 Hardwood Clip
Construction
| Material | Stainless Steel Insert | Available Color |
| --- | --- | --- |
| Polyethylene | 22,4 x 22,4 x ,9 mm | |
Timber
Compatibility
| Air-Dried Timber | Kiln-Dried Timber | Composite Timber |
| --- | --- | --- |
| | | |
Resources for Architects &
Builders
CSI Divisions & Specs
---
Allows Contraction on Width of
Air-Dried Hardwoods
Our installation system of 45 degree angled screws secures timber planks firmly to the sleeper joists while allowing just one side of the plank to remain totally free to move with expansion and contraction. Pre-drilling screw pilot holes is always recommended to ensure planks do not crack or split.

---
Allows Expansion on Width of
Kiln-Dried Hardwoods
Our DeckWise® Heat-Treated Stainless Steel installation screws are a great option. These screws have a specially engineered 4-sided nail point tip that pierces planks quickly. Its' serrated thread minimizes plank splintering or splitting, even when installing near an edge. Or simply use our standard black painted trim-head terrace screws included in each concealed clip kit. Our screwing method also hides screw heads inside the clip insert for a professional, clean appearance.

Installing Screws into
Planks and Sleepers
Our Invisible Terrace Fixing Clips are uniquely installed with screws that run through the timber planks' edge slot groove into underlying sleeper joists at a 45° angle.
The method we require to install fixing screws at a 45 degree angle through the clip into the hardwood plank greatly increases hold-down strength up to 3X. Studies have proven that, screws in general have more strength when they are screwed at an angle. This provides the screw threads more gripping power and more bite into the timber.
Ensures a solid terrace surface, free of top-side screws
Confirms perfect position of plank gaps
Simply install ExtremeS® clips from the top-side down
Allows planks to naturally contract and expand on one side
Stainless steel fixing screws secure planks firmly for a long-term terrace
Self-drilling terrace screws allow quick installations and efficient installs
---
Enables Expansion/Contraction on the Length of
Composite Planks
Driving fixing screws directly down at 90 degrees through our concealed clip is recommended for PVC and composite material. This method allows the material to move naturally along its' length. Generally there is absolutely no need to screw through the composite plank itself. PVC & composite material only travels on its length, not its width. Plank spacing will remain accurate and terrace clips will be invisible between the gaps.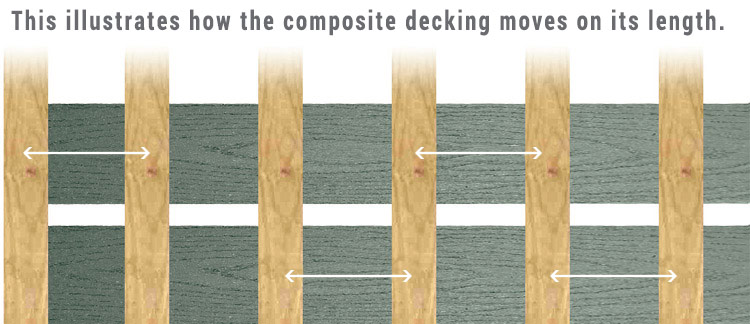 Deck

Wise® ExtremeS®

Installation Specifications

Plank
Compatibility
| Plank Thickness | Plank Width |
| --- | --- |
| *A = Measurement Of Plank Thickness | **B = Measurement Of Plank Width |
Groove
Dimensions
| Thickness of Cut | Cutting Height | Cutting Depth |
| --- | --- | --- |
| C = 4mm | ***D = (A-4mm)/2 | E = 13mm |
Plank
Spacing
During Installation
****F = 4mm
* If utilizing 38,1mm or thicker material, longer screw options may be required than what is generally included with this invisible terrace clip kit.
** For terraces 20,32cm or wider, the (A) dimension must be at least 38,1mm. Utilizing a wide plank such as this for terraces will almost certainly generate cupping issues despite of how the material is fixed if thicker material is not used.
*** This formula will produce a symmetrical edge slot profile that enables you to reverse and/or rotate the plank to be able to place the ideal side up.
**** Invisible clip instantaneously achieves proper gap spacing when planks are pushed close together in the course of installation.
---
Symmetrical/Reversible
Planks
Install the Best Side of Timber Planks
Symmetrical Side Grooves: Timber planks have edge slot grooves which are symmetrical on each side and are centered in the sides of the planks.
Two smooth surfaces: Because timber planks have symmetrical grooves, the plank can be flipped over to use the best side facing up.

Whatever specie of hardwood a person may choose for their terrace, the planks are not always attractive on each side. Many terrace fixing methods have an edge mount profile which does not allow planks to be turned for the ideal smooth surface. This is certainly not true with our ExtremeS® concealed fixing clips simply because the fixing profile is symmetrical on both sides.
Maybe there is a scratch on a part of a patio timber plank? Merely reverse the plank and install the better looking side upward. Due to the fact our method utilizes either side of the timber plank, installment time is improved and earnings are not likely lost on planks which can not be mounted.
Inquire with your timber dealer for pre-grooved terrace planks or utilize a router machine on your job site to cut the groove slots.
---
Timber Plank
Replacement
Review these steps to replace damaged terrace planks
DeckWise® ExtremeS® unseen terrace clips come with the extra benefit of effortless and easy timber plank replacements. Generally there is absolutely no need to disassemble your terrace simply to remove a damaged timber plank. Merely observe this website link in order to view the procedures needed in our Plank Replacement Guide.
Plank Replacement Guide
Available Terrace
Fixing Kit Options
DeckWise® ExtremeS® Invisible Terrace Clip kits (185 count) can be combined with different combinations of our heat-treated timber screws or trim-head painted screws. Invisible Hardwood Clip Kits could also include different colored terrace clips as well as various sized spacer wedge legs for specific terrace applications.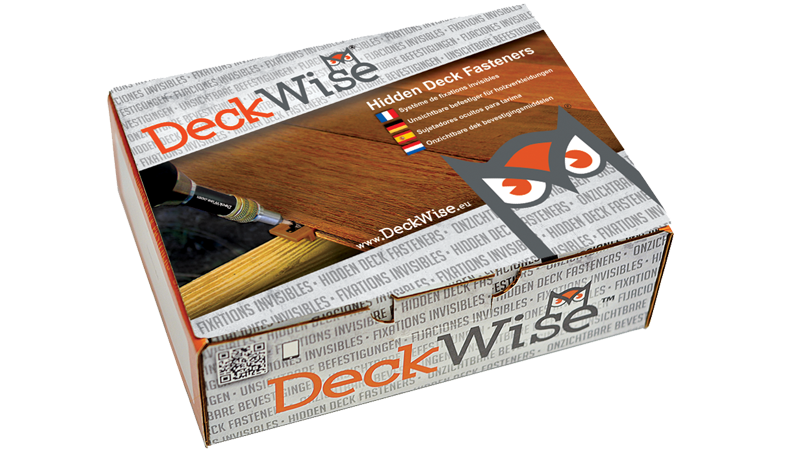 Complete
Kit
(185)

Deck

Wise® ExtremeS® Invisible Clips
(200) 4 x 50mm Stainless Steel T15 - Star Drive Black Screws
(12) 9,5mm Tapered Ipe Plugs
(1) 3,2mm High Speed Drill Bit
(1) T15 Star Driver Tips
(3) Spacer Wedges
(1) Instruction Sheet
---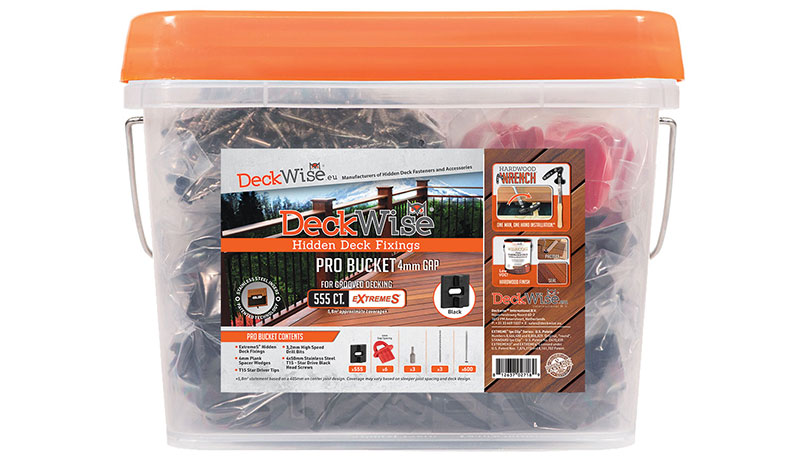 555 PRO
Bucket
(555)

Deck

Wise® ExtremeS® Invisible Clips
(600) 4 x 50mm Stainless Steel T15 - Star Drive Black Screws
(3) 3,2mm High Speed Drill Bit
(3) T15 Star Driver Tips
(6) Spacer Wedges
(1) Instruction Sheet
---

ExtremeS®

Stainless Steel Screws

Spacer Wedge

T15 Star Drive Tip

3,2mm Drill Bit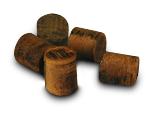 9,5mm Plugs