Heat-Treated
For Hardness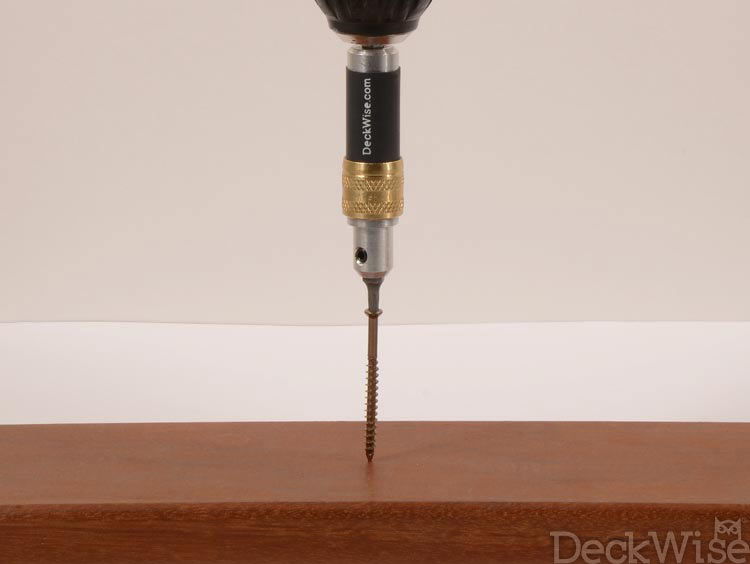 TTAP® TORX®
T15 Screws
Our TTAP® TORX® T15 screws are self-drilling; manufactured from high 8-18 Grade stainless steel; heat-treated for high hardness; and 4 sided nail point for sharpness.
Superior screw driving
TTAP® TORX® T15 Star Drive
Authentic TTAP® combined with TORX®
Stick-fit no wobbling bit housing
One hand operation without magnetic holder
Reduce drive tool usage
Improved productivity
Greater torque and drive tool life
---
Less Stripping, Less Snapping,
Less Headaches!
HTSS™ screws from DeckWise® are Heat-Treated and Self-Drilling Stainless Steel hardwood screws manufactured with a specially designed four-sided point including a serrated thread design to reduce the risk of plank splintering, cracking and splitting. Even while screwing close to the plank edge.
HTSS™ stainless steel screws are an 18-8 heat treated screw for superior strength and durability. HTSS™ screws are manufactured with a patented locking TTAP® T15 Star Drive head. This means less stripping, less snapping, and less headaches. Installing invisible terrace fixings, hidden cladding fixings, and face screwing has never been easier.
You may include HTSS™ decking screws in
Deck
Wise
®
Hardwood Deck Fixing Kits.
* TTAP® is a registered trademark of TtapDrive AS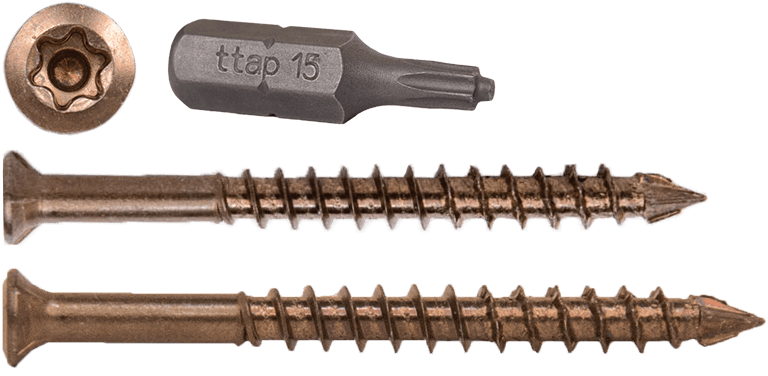 Pre-Drill
Timber Planks
When using any type of hardwood screw, we suggest pre-drilling pilot holes for any specie of hardwood. The DeckWise® HTSS™ (Heat-Treated Stainless Steel) screw is a self-drilling screw with threads that bite and pull inward for maximum grip and hold-down power. Even with "self-drilling" screws, pre-drilling will reduce the chance of timber planks cracking during installation and will save on overall timber costs. This screw will produce a clean and professional finish for top-side face screwing or with invisible terrace fixing clips. (Pre-drilling is not necessary when installing most softwood planks.)
Read why pre-drilling preserves hardwoods & saves time... Read More
---
Exceptionally Efficient
for Dense Hardwoods!
Heat treated (baked) for hardened toughness and performance, DeckWise® HTSS™ timber screws are ideal for use in dense exotic hardwoods or thermally modified (heat-treated timber) material.
We recommend pre-drilling prior to any installation, whether it be face screwing terrace planks, invisible cladding fixings or installing invisible terrace clips.
Interested in an interchangeable 3-in-1 decking tool to help get the job done quick? Check out the DeckWise® Drill & Drive™ drill bit set. It includes 3,2 mm bits, T15 tips, and 9,5 mm countersink bit.

DeckWise® HTSS™ Decking Screws can now be included our Invisible Terrace Fixing Kits.
| Size | 4,2 x 45 mm | 4,5 x 50 mm |
| --- | --- | --- |
| 100 CT | | |
| 350 CT | | |