Invisible Terrace Fixings, Cladding Fixings,
Screws & Wedges
Innovation. Not Imitation.
DeckWise® International B.V. is the European Sales Office for the Made in the USA DeckWise® Invisible Terrace Fixings and Hardwood Building products. Located in Amersfoort, The Netherlands, DeckWise® terrace and cladding fixings, tools and accessories are distributed throughout many European countries as well as internationally.
The DeckWise® International B.V. professional hardwood building products are manufactured in the USA for contractor pros and do-it-yourself homeowners across the globe. As the original inventor of the hardwood clip invisible terrace fixing design, this U.S patented edge-mount terrace fixing incorporates a stainless steel reinforcing insert for extra strength of up to
3 Times Stronger that other all steel terrace clips on the market.
Contractors and DIY home owners already familiar with installing our building materials, recognize the high USA Made quality offered by our company as a leader in the hardwood building industry worldwide.
Invisible Terrace Fixing Clips For Hardwoods
Invisible Cladding Fixing Clips
Stainless Steel Terrace Screws
Painted Trim-Head Terrace Screws
Self-Drilling Terrace Screws
Terrace Plank Straightening Tool
Terrace Installation Drill Bits & Screw Tips
Hardwood Plugs To Hide Screws
Terrace Plank Spacer Wedges
Stress Free Building
Products & Tools
For exotic hardwoods, thermally modified timber, & composite materials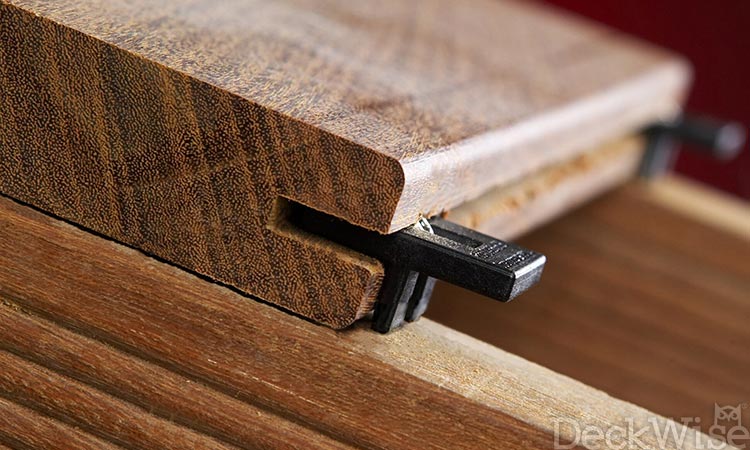 ---
The DeckWise® EXTREME™ series of terrace clips is the original U.S. patented invisible terrace fixing with a stainless steel reinforcing insert.
Designed to be used with the majority of wood species and for a large variety of applications. For more information, click button below.
Terrace Clip Info
Timber Specie Chart
EXTREME™ Series Fixings:
The Original U.S. Patented Design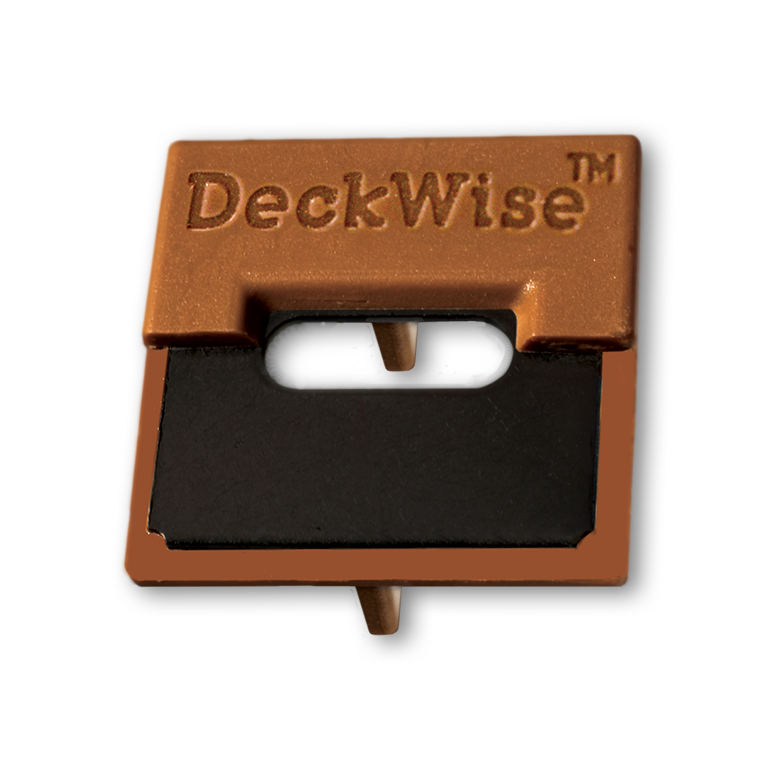 Injection Molded Hardened UV Polymer Casing
Embedded Hardened Stainless Steel Insert
Black oxide coating protects against corrosion
Incorporated Spacer Wedges
The distinctive U.S. patented design of our concealed Hardwood Clip Terrace Fixing provides effortless side-mount installation, while providing both D.I.Y. and professional contractors an expertly finished smooth hardwood surface without face screwing.
Our DeckWise® invisible terrace fixings will make your new or hardwood project safer because they are an edge-mount fixing installed on the sides of planks. They are concealed between the timber plank gaps and not on the walking surface. This keeps the terrace surface free of screws and results in a smooth finish, safe for family and children.
The DeckWise® clips are modeled after the American version of the Ipe Clip® Invisible Fixing and is the original and USA patented injection molded terrace clip that utilizes a black oxide stainless steel insert for reinforcement.
Accept no substitutions! Buy DeckWise® Invisible Terrace Fixings!
---
Stainless Steel
Terrace Screws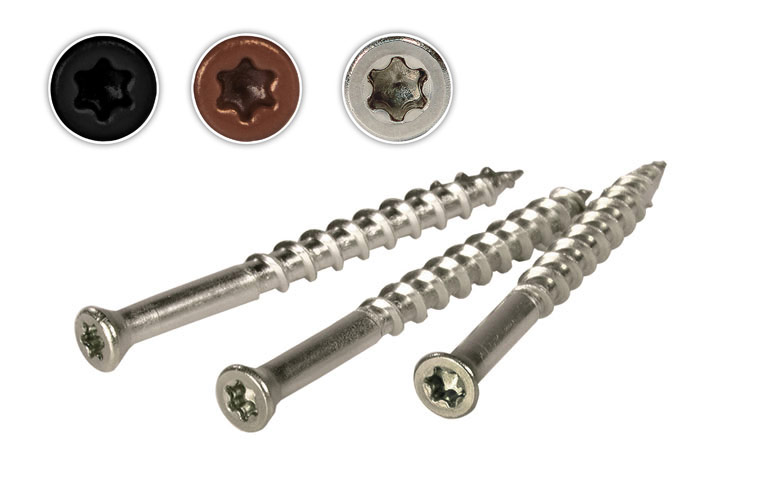 The DeckWise® complete line of expert level Stainless Steel Terrace Screws are the preference of professional builders. By using DeckWise® screws, they can ensure their customers that terrace boards are securely attached to main joist sleepers.
We warehouse a large supply and variety of stainless steel terrace and cladding screws in The Netherlands for any hardwood project. Whether using exotic hardwood such as Ipe, TigerWood, Garapa, Cumaru, Massaranduba or thermally modified softwoods such as White Ash, Gum, Walnut, Beech or Oak, you can trust our products to last the lifetime of your hardwood terrace, Ipe cladding or building project.
---
Stainless Steel
Cladding Fixings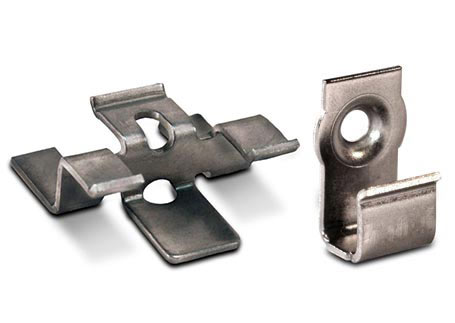 The DeckWise® Stainless Steel Invisible Cladding Fixing removes the need for external screws or rivets and produces a perfectly smooth and luxurious hardwood cladding surface. These cladding fixings are installed inside the rainscreen edge profile of hardwood timbers and affixed to a wall with stainless steel screws. This entire system reduces twisting and cupping while preventing the intrusion of rain water which can lead to timber rot.
Each cladding clip has two (2) installation holes that allows for multiple design options. Installing cladding timbers at an angle, vertically or even overhead on a ceiling is easy and quickly accomplished. Designers and architects can let their imagination run wild and trust our screws and cladding fixings will hold tight for a lifetime.
---
Hardwood Building
Supplies & Accessories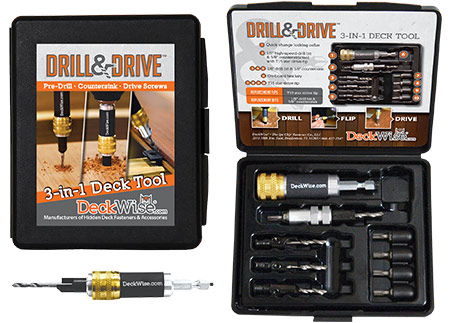 We make it effortless to construct an outdoor oasis brimming with distinctive style. Our innovative and pioneering spirit behind our brand keeps us at the cutting-edge of building product design. We are builders, since the year 2000, who know the importance of having the right look and parts for a beautiful terrace or cladding project.
As the first name in selection and high USA quality, DeckWise® will be your hardwood construction brand of choice for your entire project. Whether you're looking for installation screws or unique terrace building tools, you've come to the right place.
Our terrace screws, hardwood clips, plank bending Hardwood Wrench™, installation tools and accessories are sure to make your exterior area the talk of the town. We are committed to providing the best value and the best selection of terrace and cladding accessories across Europe.
---
Limited
Warranty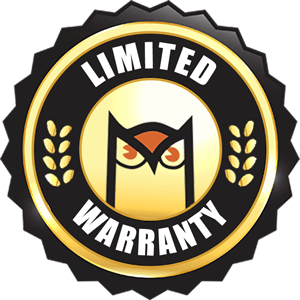 We are offer a non-transferable Limited Warranty free of manufacturer defects in material to the original purchaser. Purchases must be from an "Authorized" dealer or re-seller of our products. We use only high Grade 305 stainless steel for our deck screws, cladding fastener clips and the metal insert for our hardwood clip deck fasteners.
Contact our European sales business office for additional information about DeckWise® items, or for information in which deck tool to buy.
Call us direct (Phone: + 31 33 469 1037) for information on becoming a DeckWise® dealer in your European location.