Wholesale
Terrace, Cladding & Building Supplies
---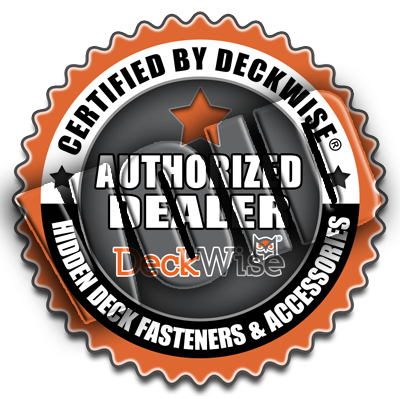 Contact us to become an Authorized Dealer of the original EXTREME® terrace fixing clip invention. Ask how your business can sell the Patented in the USA invisible terrace clips with a stainless steel reinforcing insert. Purchase at wholesale prices on all terrace and cladding installation products such as stainless steel screws, terrace timber straightening tools, hardwood timber plugs, and plank spacer wedges.
There is no better time than now to join the European DeckWise® International B.V. family of wholesale dealers and distributors. Every year, we continue to grow and innovate with new terrace construction products that address the demands of builders.
---
Be part of an incredible team of wholesale building materials professionals whom already purchase in bulk; committed to one mission; to better customer build projects with easy-to-use installation solutions.
Dealers and Distributors of DeckWise® International B.V. obtain the perks and benefits of low wholesale timber building products at 5 different levels. Our Dealer Program is specially made to meet the needs of countless business models. Regardless of whether you're a Building Materials Store, Timber Yard or Mill, there is a Dealer program suited for you.
For any timber yard or building materials business that is interested in selling DeckWise® International B.V. products on the internet, please complete our Dealer Internet Form by clicking this LINK. This will also allow us to determine if both our companies are an ideal fit for each other.
Stocking, drop ship or online Dealer accounts shall NOT sell to or become resell vendors for any large online retail outlets without prior written permission from DeckWise® International B.V.
Dealer & Distributor
Benefits
---
Wholesale terrace & cladding installation products
Business development
Communications
Advertising & marketing
Product knowledge and training
Co-Op advertisement options
Co-brand reseller programs
Increase profits to your bottom line
Direct quick shipping
No set stock requirement
JOIN THE
DECK

WISE® B.V. TEAM!

DeckWise® B.V. is dedicated to building continuous revenue growth with our cladding and terrace product resellers. Now is the perfect time to join the DeckWise® team!

Apply Now
DeckWise® International B.V. is constantly dedicated to develop and deliver innovative timber building products that not only capture builders interests, but also bring in higher than average earnings. That means more day to day customers to your business!
European DeckWise® International B.V. dealers offer a multipurpose set of exceptional quality terrace and cladding products, giving their customers a reason to return. This isn't simply putting new products on your store shelves. This is a partnership where our number one objective is making you money!
Our Dealer program is created to permit our timber supply resellers the ability to achieve their full potential, boost market coverage and saturation. This ensures mutual profitability and market share expansion in the cladding and terrace building industry.
We supply ideal sales and marketing tools, technical insight, service and assistance to meet your customer needs. This helps to differentiate your business from the competition!
Frequently Asked
Questions
Q: Why should my timber yard consider becoming a DeckWise® B.V. Dealer/Distributor over other building suppliers or terrace construction accessories on the market?

A: First and foremost, the DeckWise® International B.V. line is of the highest quality you will come across in this industry. Just as importantly, we manufacture premium American made durable decking products. Protected by our Limited Warranty, your timber buisness can rest easy knowing your contractors and clients are in great hands with the DeckWise® name for top quality and high performance.

Accept nothing but the highest quality delivered from our original U.S. patented invisible terrace clip with a stainless steel insert.

Always Innovation. Never Imitation™.

Q: By picking DeckWise®, is the profit margin for my business really worth bringing on an additional product line?

A: Without question, you will see higher than average margins from our turn-key wholesale setup.

Q: I have a corporate freight account set with [DHL, UPS or Fed EX]. Will you set up my account information in your system, and then ship my orders billing them to my account number?

A: Definitely!

Q: How do I obtain important information about all of the DeckWise® B.V. products to download and apply to my company website?

A: Our Marketing Department is ready to help your sales staff navigate our website and guide you on the use of our Dealer Resource Portal. There, you will find product images and installation guides to use on your own website and give to your customers.

Q: My company has multiple branch stores, so with [1] account open and making use of it as a "Master Account", can ALL of our other "sister" stores purchase though this account?

A: INDEED! Keeping your firms purchases billed to the master account, yet split and shipped to the appropriate branch office is easily done with our system!

Q: Is the sign up procedure to become a DeckWise® B.V. Dealer or Distributor simple and easy?

A: Yes, it's extremely simple, and easy! We email our application to fill out and return for review!

Q: Does DeckWise® B.V. require my company to adhere to any pricing rules such as a MAP Policy?

A: Yes, we are very stringent on making sure our dealers and distributors adhere to advertising guidelines to ensure everyone has the same ability to make a sale. We have a MAP Policy online form (see below) to fill out on this website with all of the guidelines.

Q: Once my application is submitted, how much time does it take before a billing account is open?

A: When all of your references have responded, your credit application is approved, and the MAP Policy form is submitted, an account can be established within 5 business days.

Q: What are the DeckWise® B.V. guidelines on billing terms?

A: Net, 30 days.

Q: Do you allow Dealers/Distributors to hold an account and pay for every order by credit card?

A: Absolutely! We make each and every effort to keep accounting as simple as possible.

Q: After my account is open, how do prospective customers inside my sales territory find me?

A: Upon your account being opened, our marketing department adds your business contact information to the online Dealer/Distributor locator on the DeckWise® B.V. web site, which connects to Google maps. This map stretches across Europe showing your location, bringing clients to your country and town location.

Q: With an open account; will I have a DeckWise® B.V. associate allocated to me?

A: Of course! Our expert European Sales Team is available any time for inquiries and is located in Amersfoort, Netherlands.

Q: How should I place my terrace and cladding product orders?

A: The best way is to call our office at + 31 33 469 1037 with your purchase order. You may also email to sales@deckwise.eu or fax to + 31 33 448 0525. Your assigned DeckWise® B.V. sales associate will gladly assist with placing your order and arrange shipping.

Q: After my order is placed, how do I know it has been processed?

A: Once your order has been received and put into our system, your DeckWise® Sales Associate will email/fax a copy of your order in its finished state. Your copy includes: your company's purchase order [if used], ship to address, established buying level per item, all information reflecting current or seasonal sales programs, applied sale discounts per item, taxes, shipping fees, etc. If the order is shipping DIRECT to your client, they will receive a packing list with their order which is blind copy only.

Q: Does DeckWise® B.V. have special sales, and if so, how frequently are they, do you offer "buyer incentives" for larger purchases, and how would my firm be informed of these?

A: ABSOLUTELY! DeckWise® usually has [3] significant sales each year and they are normally for an entire month. Our first sale is in the Spring, and then one in the early Fall, followed by a year-end sale in November. We provide buyer incentives on each sale and every Dealer and Distributor is informed well in advance by email or with a post card.

Q: I'm very worried about over extending myself by stocking a new product. What are your conditions for my stock levels as a new Dealer for DeckWise®?

A: We require all dealers and distributors to stock our building products in their stores. The smallest stocking level is €1,500 (or your country's monetary equivalent) in products you choose. There are no specifically required amounts of any product you wish to stock. Please know that, we are glad to drop ship a single product or bundle if you or a customer may need something you currently do not stock.

Q: Since the DeckWise® warehouse is based in The Netherlands, what is the "cutoff" time for my business to place a decking order and know that it will be packed and sent out for delivery?

A: Utilizing DHL, most often, we allow smaller orders up to 3:00 PM Central European Time for same day fulfillment and shipping out. However, if for any reason an order cannot be accepted at your business location, you will be notified promptly that your order cannot be shipped until the next day.

Q: Shipping costs are a major concern with everyone, so what is the DeckWise® B.V. policy on Shipping and Handling fees?

A: It is our policy to always keep this fee as small as possible therefore, on small shipments (1-2-3-4 boxes), we apply about €1 per box to address the cost of the box and packing materials necessary to get your order safely to you. On bigger shipments that must be transported on a pallet and delivered by freight line, we waive this box and packing fee entirely.

Q: If my company makes the decision to join the DeckWise® B.V. family, what can we anticipate from you?

A: Your building materials company will receive complete support in the set up process of joining us, i.e. website navigation guidance, tips on how to enhance sales, adequate product samples, training insight including on-line tutorials, product catalogs, regular updates and announcements of upcoming sales and special offers. Plus, as inquiries within your area come to us through our website or by phone, we send them directly to you when they are in your region of Europe!

Q: Does DeckWise® B.V. usually ship major orders the same day you receive the Purchase Order?

A: YES! It is unusual for us to take an additional day for order fulfillment and shipping, unless your order arrives too late in the day. As with each and every order, our staff understands that your order is important and the lead time to you is vital, so we will inform you immediately if there is any delay.

Q: Does DeckWise® B.V. have a "Return Policy", and if so, could you briefly describe it?

A: Yes we do, and each return is managed individually by your sales staff. After discussing the criteria for the return, an RMA (return merchandise authorization) will be created, and your copy will be emailed to you. A restocking fee of 15% may possibly apply, but again, the criteria for the return will determine that.

Q: Does DeckWise® B.V. offer "Exclusive Territories", and are there any currently in existence?

A: No, and no.

Q: I'm not sure that I understand the distinction between your titles of Distributor, versus Dealer, so could you please clarify them?

A: Absolutely! Briefly, DeckWise® B.V. at this time offers [2] buying levels of Distributorship, and [3] buying levels of Dealerships based on a forcasted amount of annual purchases. All of which are established with your business before an account is launched. The criteria for each will be thoroughly explained and openly discussed with your company representative during our interview process, and your company will understand exactly which one you are being offered.

Q: Once established as a Distributor inside a territory, or region, is my area secure to my firm, in that, DeckWise® BV will not permit another Distributor to move in and interfere with my Dealers who have been set up under me?

A: Absolutely! When made aware of situations like this one, we will act in support of the firm whose current Dealers are being contacted.
Discover the
Deck

Wise® Difference
Contact us direct at
+ 31 33 469 1037

today!
Our Advertised Pricing Policy (MAP)
If your timber yard is authorized to sell DeckWise® International B.V. merchandise in-store or online, you must agree with the DeckWise® Minimum Advertised Price Policy (MAP) set by our company. This will ensure fair trade with all dealers and distributors and not create a price war. All advertised prices in your store or on line must be at the Minimum Advertised Price (MAP) Policy and no lower. Period. Sales, coupon codes and discounts are only approved inside shopping carts at checkout.
We ask that you, in addition, be mindful that any resellers under your umbrella are also subject to our MAP Policy.
Once you have agreed to the MAP Policy, our staff will evaluate your application and reply to you through email, letting you know your approval.
DeckWise®, International B.V. in its sole discretion, reserves the right to cease doing business with any Dealer, Distributor that advertises any DeckWise® product(s) covered by this Minimum Advertised Price policy at a lower price than our policy requires.
---
Become a
Deck

Wise® Dealer

Today!